Sees Significant Opportunities to Expand TPE's Heat Recovery Technology
NEW YORK, June 5, 2012--SunSi Energies Inc.

("SunSi") (OTCQB:SSIE), a provider of the specialty chemical trichlorosilane
("TCS") to the solar industry, today announced that it has developed
strategic plans to rapidly expand TransPacific Energy Inc.'s (TPE)
innovative heat recovery technology both domestically and internationally.
SunSi previously announced that it had entered into a binding agreement to
acquire 51% of TPE and continues to make progress toward consummating the
acquisition.
According to a May 23, 2012 article that appeared in Reuters headlined
"Goldman Sets $40 Billion Clean Energy Investment Plan",
http://finance.yahoo.com/news/goldman-sets-40-billion-clean-211750666.h
tml "Goldman Sachs Group Inc. plans to channel investments totaling $40
billion over the next decade into renewable energy projects, an area the
investment bank called one of the biggest profit opportunities since its
economists got excited about emerging markets in 2001."
Additionally, Goldman executives said "demand for alternative energy sources
will grow with global energy demand, and as big manufacturing countries,
including China and Brazil, set more aggressive targets for reducing
emissions."
TransPacific Energy's patent-pending heat recovery and energy conversion
process produces electricity from a variety of heat sources.
These sources include solar, biomass, hot flue gases from process industry,
landfill, geothermal, gray water/hot fluids and warm ocean waters, which
each represent multi-billion dollar opportunities in the renewable energy
markets referenced in the Goldman article.
SunSi's Chairman Richard St. Julien commented, "TPE has the perfect product
for the industrial marketplace. We have already identified a potential list
of high profile customers in both the United States and China that could
benefit from TPE's technology. With multiple billions of dollars earmarked
for renewable energy projects by the U.S. and Chinese governments over the
next ten years, both the U.S and China are excellent locations for TPE to
establish a solid foothold. The inherent advantages of TPE's technology is a
great selling feature, and the size of the market for the reduction of
emissions alone is enormous. We look forward to completing the TPE
transaction, generating substantial new revenue streams and increasing
SunSi's enterprise value for our shareholders."
SunSi continues to pursue a listing on NASDAQ and these efforts appear to be
on track for the second half of 2012.
About SunSi Energies Inc.
SunSi Energies' objective is to become one of the world's largest producers
of trichlorosilane ("TCS"). The Company plans to achieve this objective by
acquiring and developing a portfolio of high-quality, scalable,
strategically located TCS production facilities that possess a potential for
future growth and expansion. U.S. based SunSi controls approximately 55,000
metric tons of TCS production in China. TCS is a chemical primarily used in
the production of polysilicon, which is an essential raw material in the
production of solar cells for PV panels that convert sunlight to
electricity. For further information regarding SunSi, please visit the
Company's website at http://www.sunsienergies.com. Additionally, SunSi's
objective is to significantly expand TPE's proprietary technology both
domestically and internationally. For further information regarding
TransPacific Energy Inc please visit the company's website at
www.transpacenergy.com
Featured Product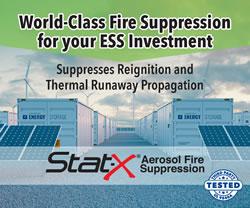 Stat-X® Condensed Aerosol Fire Suppression is a solution for energy storage systems (ESS) and battery energy storage systems (BESS) applications. This includes in-building, containerized, and in-cabinet applications. The Stat-X product was tested for efficacy in putting out Li-ion battery fires. It was found that the Stat-X agent successfully extinguished single and double cell battery fires. This testing was conducted in parallel with a large battery fire testing program. DNV GL Energy conducted the testing and validated effectiveness of the Stat-X aerosol agent on cell level Li-ion battery fires.