Eight-Megawatt Solar System Will Save West Windsor, N.J., College Approximately $15 Million Over the Next 15 Years
An 8-megawatt solar project being installed by the Mercer County Improvement Authority (MCIA) at Mercer County Community College (MCCC) is expected to save the college $15 million over the next 15 years at no upfront cost to the College, allowing MCCC to stabilize its budget after years of significant cuts, and help keep tuition affordable.

The ground-mounted solar system, which will be installed on college-owned property on the east side of the college's West Windsor campus, is expected to meet 70 percent of the electricity needs at that campus, yielding an approximate savings of between $750,000 and $1.3 million per year on electricity expenses. Furthermore, after 15 years, the MCIA and MCCC have several options that, if acted upon, could allow for an additional 10 years of energy savings to the College.
"Since electricity has always been one of our biggest operating expenses, outside of salaries and benefits, the College's Master Plan includes taking all possible steps to lower energy costs and increase sustainability," said Dr. Patricia C. Donohue, MCCC president. "For example, over the past several years, whenever possible, we have installed energy-efficient products and systems. The decision to pursue a solar system is one significant step in the Master Plan to reduce operating expenses, thus benefiting our students and our campus community."
The system will also serve as a hedge against future electricity rate increases, meaning that the value of the electricity savings will increase over time. New Jersey already has some of the nation's highest electricity costs, and those rates can only be expected to increase with the impending retirement of the Oyster Creek Nuclear Generating Station in Lacey Township, which is the nation's oldest nuclear power plant.
Construction on the solar project is expected to begin this summer, with the system expected to be operational by the end of the year.
The ownership of the project has been structured as a lease-purchase agreement. The title owner of the project is the MCIA. The MCIA has entered into a 15-year lease with SunLight General Mercer Solar, a SunLight General Capital company. The lease transfers all burdens and benefits of ownership to SunLight General Mercer Solar, including the right to sell energy to the college. In addition the lease agreement, the MCIA, MCCC and Sunlight General Mercer Solar have also entered into a three party power purchase agreement governing the sale of electricity to the MCCC, and a three party site license agreement which authorizes Sunlight General Mercer Solar to construct the project on MCCC's property.
SunLight General will offer energy from the project to MCCC at a discounted rate of 3 cents per kilowatt-hour, compared to the 14 cents per kilowatt-hour the college was paying at the time of assessment. Once the lease agreement expires after 15 years, MCCC will have the option of assuming ownership for the remaining 10 to 15 years of the system's life.
Along with financial savings, an important motivation for the college's decision to "go solar" is support for the educational programs on renewable energy which are preparing students for leadership roles in New Jersey's growing "green collar" industry.
"Part of our mission is to meet the needs of business and industry by training our students for careers that are in demand," said Dr. Donohue. " The solar project will not only provide much-needed cost-efficient, renewable electricity, it will also prepare students for jobs as engineers, electricians, installers and computer scientists in one of New Jersey's fastest growing industries."
The project, which has been carefully planned for more than a year, also brings significant environmental benefits. Each year, the project will offset 7,500 tons of carbon dioxide emissions, a major source of greenhouse gas. In addition, it will offset the emission of 20 tons of sulfur dioxide and 8.5 tons of nitrogen oxides, which cause smog and acid rain and trigger asthma and other respiratory ailments.
Detailed information on the MCIA/MCCC solar project, including a fact sheet, is available at www.mcianj.org.
About Mercer County Community College:
Established in 1966, Mercer County Community College (MCCC) is an accredited, publicly supported comprehensive educational institution that provides opportunities for higher education through an open-door admission policy. The scenic 292-acre West Windsor Campus was opened in 1972 to serve the needs of Mercer County residents. The James Kerney Campus, located in downtown Trenton, serves as an educational and cultural hub for city residents. MCCC enjoys a diverse student body that brings a variety of background and experience to campus. MCCC offers 70 associate degree programs and numerous credit and noncredit certificate programs. For more information, please visit www.mccc.edu.
About the Mercer County Improvement Authority:
The Mercer County Improvement Authority (MCIA) was created in 1967 under the County Improvement Authorities Law to undertake certain projects for the benefit of the residents of Mercer County. The mission of the MCIA is to serve the needs of Mercer County, improving the quality of life for the residents by providing programs and services for the county, municipalities, school and fire districts and not-for-profits in the areas of financing, project management, redevelopment, solid waste and recycling. For more information, please visit www.mcia-nj.com.
About SunLight General Capital:
SunLight General Capital is a solar energy developer and financier founded by professionals from the solar and finance industries. SunLight General Capital is focused on projects in the northeastern United States. The company helps promote access to clean, renewable energy by financing the construction of solar generation facilities on clients' rooftops and grounds, and offering electricity through solar Power Purchase Agreements (PPA). SunLight can finance the construction and installation of solar generating facilities on the rooftops or grounds of qualifying commercial clients. For more information, please visit www.sunlightgeneral.com.
Featured Product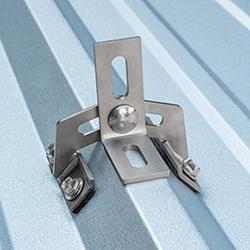 Explore new lines of income for your solar installation business with QuickBOLT's Stone Coated Steel roof mounts designed in partnership with metal roof manufacturers themselves. These SCS roof mounts work on all metal tile profiles and will help you bring in money you're missing out on. By not driving into the roofing material, QuickBOLT's Stone Coated Steel roof hooks maintain the integrity of the roof. Install with ease and confidence knowing your roof is protected against the harsh elements that these hooks are designed for.