BELDON Roofing Company and The Dow Chemical Company Help Family Reduce Utility Bills and Increase Home Value
SAN ANTONIO--Today, DOW POWERHOUSE™ announced the first installation of its cutting-edge DOW POWERHOUSE™ Solar Shingle roof system in San Antonio. Bobby and Sarah Ross waited over a year to be the first homeowners in Texas with a POWERHOUSE™ solar roof.

In 2011, The Dow Chemical Company (Dow) installed a POWERHOUSE™ system in Katy, TX as part of an employee contest before the product was made commercially available. The Ross' family-owned business, Ross Electric Company, was chosen to connect POWERHOUSE™ below the rooftop. The family was able to see the installation hands-on, and decided to be one of the first in the country to install this total residential roofing solution that not only protects like a standard asphalt roof but also generates solar electricity, turning the roof into a source of value and savings.
"When I saw the seamless integration of the DOW POWERHOUSE™ Solar System, I knew it was something worth waiting for," said Ross. "I am proud to invest in my home with such an innovative and good-looking product. I expect that my POWERHOUSE™ roof will reduce my utility bills by about 40 percent and will increase my home value overall."
BELDON Roofing Company, the exclusive DOW POWERHOUSE™ Authorized Dealer in San Antonio, worked directly with the Ross family to custom design the solar roof array to align directly with the family's budget, roof design and energy goals.
"This is an exciting day for us to be a part of the first DOW POWERHOUSE™ solar roof installation in Texas," said Brad Beldon, President and CEO of BELDON Roofing Company. "We are seeing the way San Antonians think about their roof change now that they have the option to purchase a smart roof system that goes to work for them and pays for itself."
The POWERHOUSE™ Solar Shingle roofing system is offered to San Antonio homeowners as a packaged turn-key solution. It includes:
*A custom designed array of shingles to fit the individual homeowner's budget, roof design and energy goals
*A DC-to-AC inverter that feeds the home's power needs or can be returned to the power grid
*A monitoring system accessible from any internet connection, showing real-time energy production and generation
Made in the United States and backed by a 20 year warranty from Dow, the POWERHOUSE™ Solar Shingle is also certified as both a solar and roofing product. It has received seven performance and safety certifications, including the backing of Underwriters Laboratories (UL), International Code Council Evaluation Service (ICC-ES) certification and is proven to withstand rain, hail and wind uplift.
Visit DOWPOWERHOUSE.com to find more information about the DOW POWERHOUSE™ Solar Shingles and to get specific information on our availability in the Texas market.
About BELDON Roofing Company
BELDON Roofing Company is a third-generation, family-owned business founded on the principle that the opportunity to succeed — with fairness and integrity — is always at hand. Our focus is on providing outstanding service and quality products at a fair price. And with the addition of DOW POWERHOUSE™ Solar Shingles to our offerings, that's never been more true. In fact, after years of meeting every commercial and/or residential roofing need, we're now an Authorized Dealer of the world's first complete solar roofing solution. Further, BELDON Roofing Company has a staff of more than 100 trained professionals, a fleet of more than 50 vehicles and state-of-the-art equipment to take care of all your roofing needs in the most prompt and efficient way possible. But no matter what you're looking for, we realize you have a choice, and you can be assured that we will never take your business for granted.
About Dow
Dow (NYSE: DOW) combines the power of science and technology to passionately innovate what is essential to human progress. The Company connects chemistry and innovation with the principles of sustainability to help address many of the world's most challenging problems such as the need for clean water, renewable energy generation and conservation, and increasing agricultural productivity. Dow's diversified industry-leading portfolio of specialty chemical, advanced materials, agrosciences and plastics businesses delivers a broad range of technology-based products and solutions to customers in approximately 160 countries and in high growth sectors such as electronics, water, energy, coatings and agriculture. In 2011, Dow had annual sales of $60 billion and employed approximately 52,000 people worldwide. The Company's more than 5,000 products are manufactured at 197 sites in 36 countries across the globe. References to "Dow" or the "Company" mean The Dow Chemical Company and its consolidated subsidiaries unless otherwise expressly noted. More information about Dow can be found at www.dow.com.
About DOW™ POWERHOUSE™
The DOW POWERHOUSE™ Solar Shingle is a first-of-its kind product, designed to combine the benefits of solar technology with the durability and performance of traditional roofing materials. POWERHOUSE™ has been developed to introduce solar technology to a new generation of homeowners by providing an unprecedented integrated roof appearance and simplified installation. It combines a roofing shingle with a solar cell, enabling the DOW POWERHOUSE™ Solar Shingle to be installed by a roofer along with standard asphalt roofing materials. This makes the DOW POWERHOUSE™ Solar Shingle an easy choice for homeowners looking for a residential solar solution that is easy to install and aesthetically pleasing. Building Integrated Photovoltaic (BIPV) products from Dow Solar are one of the many innovations from Dow establishing the Company on the forefront of alternative energy solutions and expanding Dow's commitment to using chemistry to solve the world's energy challenges. More information about DOW POWERHOUSE™ can be found at www.DOWPOWERHOUSE.com
Featured Product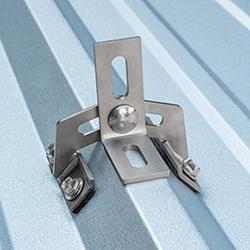 Error-Proof Compression: The QB2 doesn't leave any room for user error when it comes to Microflashing® compression. Once the Dual Drive Shoulder Screw is secured, the Microflashing® is compressed. Only 3 Components: The QB2 is comprised of Microflashing®, an L-foot and a Dual Drive Shoulder Screw. No more Nuts needed to tighten and secure the L-foot! Not only does this simplify the installation process, it also cuts down the installation time.