The improvement to the technology can be executed at ambient pressure and low temperatures, allowing researchers to avoid the use of materials that must otherwise be deposited using high temperature vacuum deposition.
Columbia, MD – June 18, 2012 – New Energy Technologies, Inc., developer of see-through solar cells for generating electricity on glass, today announces an improvement in its manufacturing technique that should lead to higher speed, lower costs and greater durability.

Teaming with the US Department of Energy's National Renewable Energy Laboratory, New Energy Technologies Inc. (OTCQB: NENE) has developed the use of low-cost materials and a special application technique that could help optimize the movement of electrons within the ultra-thin solar cells. This should increase the amount of electricity produced when New Energy's see-through SolarWindow™ prototype is exposed to natural or artificial light.
Importantly, the improvement to the technology can be executed at ambient pressure and low temperatures, allowing researchers to avoid the use of materials that must otherwise be deposited using high temperature vacuum deposition. Vacuum deposition is both expensive and time-consuming and, thus, not practical for high speed and large-scale applications. Today's innovation promotes low processing temperatures, enabling high-speed roll-to-roll (R2R) and sheet-to-sheet (S2S) manufacturing. This large-area, R2R and S2S fabrication capability and improved durability of SolarWindow™ technology are crucial for production of market-ready electricity-generating coatings on see-through glass and plastic.
Previously, New Energy, with assistance from University of South Florida and NREL, developed important improvements to New Energy's SolarWindow™ technology, capable of generating electricity on see-through glass. These improvements include enhancements that address advancing durability, power performance, and cost-effective manufacturability – all important to the eventual commercial deployment of New Energy's SolarWindow™ technology.
Today's announcement marks the latest in a series of technical accomplishments that Company and NREL research teams have recently achieved.
"Over the past few months, our researchers have unveiled a virtually invisible conductive wiring system, which collects and transports electricity on SolarWindow™ prototypes, and have fabricated a large area working module, which is more than 14-times larger than previous organic photovoltaic devices fabricated at NREL," stated Mr. John A. Conklin, President and CEO of New Energy Technologies, Inc. "Earlier, we developed our first-ever working SolarWindow™ prototype using a faster, rapid scale-up process for applying solution-based coatings.
"Together, these achievements have moved us closer to our manufacturing, scale-up, durability, and power production goals - all important factors to advancing our SolarWindow™ technology towards commercial launch," Conklin added.
To generate electricity on SolarWindow™ prototypes, researchers creatively layer and arrange unique, ultra-thin see-through solar cells onto glass. Each of these cells is arranged in a network and interconnected by way of a virtually invisible grid-like wiring system.
Within these ultra-thin solar cells, the light-induced movement of electrons generates electricity. When SolarWindow™ prototypes are exposed to light, the light's energy prompts electron movement through specific physical and chemical mechanisms leading to power generation.
Dr. Scott R. Hammond, Principal Scientist at New Energy Technologies, Inc., believes the discovery announced today could also favorably improve durability and shelf-life of the Company's future SolarWindow™ products. "NREL scientists have previously published unrelated results that demonstrate dramatic improvements to the operational and shelf-life of unprotected (i.e., non-encapsulated) photovoltaic devices utilizing related materials when subjected to continuous illumination. No doubt, this is a promising and significant advancement."
Currently under development for eventual commercial deployment in the estimated 85 million commercial buildings and homes in America, SolarWindow™ technology is the subject of ten patent filings and is the world's first-of-its-kind technology capable of generating electricity on see-through glass windows.
About New Energy Technologies, Inc.
New Energy Technologies, Inc., together with its wholly owned subsidiaries, is a developer of next generation alternative and renewable energy technologies. Among the Company's technologies under development are:
MotionPower™ roadway systems for generating electricity by capturing the kinetic energy produced by moving vehicles – a patent-pending technology, the subject of 36 US and International patent applications. An estimated 250 million registered vehicles drive more than six billion miles on America's roadways, every day; and
SolarWindow™ technologies, which enable see-through windows to generate electricity by 'spraying' their glass surfaces with New Energy's electricity-generating coatings – the subject of ten patent applications. These solar coatings are less than 1/10th the thickness of 'thin' films and make use of the world's smallest functional solar cells, shown to successfully produce electricity in a published peer-reviewed study in the Journal of Renewable and Sustainable Energy of the American Institute of Physics.
Through established relationships with universities, research institutions, and commercial partners, we strive to identify technologies and business opportunities on the leading edge of renewable energy innovation. Unique to our business model is the use of established research infrastructure owned by the various institutions we deal with, saving us significant capital which would otherwise be required for such costs as land and building acquisition, equipment and capital equipment purchases, and other start-up expenses. As a result, we are able to benefit from leading edge research while employing significantly less capital than conventional organizations.
For additional information, visit: www.newenergytechnologiesinc.com.
Featured Product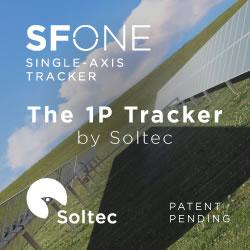 Under the slogan "engineered for greatness", the SF8 tracker aims to revolutionize the photovoltaic market with its new minimum 2x60 configuration and 4 to 6-strings. This tracker is elegantly designed while it reinforces its structure to perform in any terrain. In addition, the SF8 tracker increases the rigidity of its structure by 22% more than the previous generation of Soltec trackers, the SF7. The SF8 is specially designed for larger 72 and 78 cell modules, an increasing market trend.