What is the best way to achieve high marketability? The renewable energy market is on the rise, but the niche is still small.
What is the best way to achieve high marketability? The renewable energy market is on the rise, but the niche is still small. In a field where the demand is growing, but still only used by a small percentage of businesses and individuals the key to its success is highly trained and knowledgeable professionals. NABCEP certification helps you stand out among the crowd.

Businesses can profit from using renewable energy resources and help lower the pollution emissions from their factories. Farmers and homesteaders in remote locations can benefit greatly from the use of solar paneling for electricity and hot water. The average American can reduce their energy costs and dependence on fossil fuels. Knowledge is power. It creates the most informed decisions. The NABCEP PV Technical Sales certification will allow your client to trust you as a highly qualified professional who can empower them with the information they need.
NABCEP PV Technical Sales Certification
qualifies professionals from application engineers to site assessors. This NABCEP class is for professionals who have already entered the field of renewable energy and want to increase visibility and marketability for themselves and their company. There are specific prerequisites required prior to taking this NAPCEB exam.
During the NABCEP training you will become more proficient in qualifying customers, analyzing site areas, designing equipment specific to the individual client, improving cost and savings, analyzing the financial benefit for each customer, evaluating equipment performance and creating award winning proposals.
NABCEP training facilities recently began offering the NABCEP PV Technical Sales Certification exam online, making it even easier to earn your certification. If you are at least eighteen years old, have a valid OSHA 10 hour card and have the experience and training required, you are the perfect candidate for a more promising future after earning your
NABCEP certification
.
Note: If you have already taken the NABCEP Entry Level Exam, this does not fulfill any of the requirements necessary for this NACEP Class.
NABCEP certification does not replace any State Licensing or insurance requirements and all State requirements must be fulfilled prior to the exam. If you are serious about advancing your career and earning potential, earning your certification gives your customers more confidence in your knowledge, sets you apart from colleagues and allows you to provide your clients with the best.
Featured Product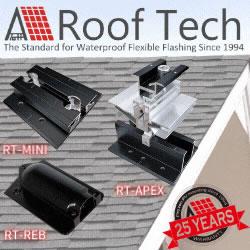 Now Roof Tech brings you the most innovative, watertight mounting systems ever developed for solar photovoltaic systems. Designed and manufactured exclusively for us by Japan's longtime leader in roofing technologies, Roof Tech products are 100% code-compliant and offer fast, simple installation and huge savings on shipping costs due to their compact, rail-less design. Learn more about our full line of versatile PV mounting solutions now available for residential installations. The next generation in rooftop solar mounting solutions."