Why Green Power Matters - How RECs impact project development and achieve sustainability goals A free REMA webinar Wednesday, June 27, 2PM ET
Description

Companies, governments, and citizens nationwide have made the decision to support green power by purchasing Renewable Energy Certificates (RECs). In fact, these voluntary purchases of green power are projected to exceed 133 million MWh by the year 2020, or enough renewable electricity for over 11 million homes. However, despite their decade-plus use in corporate sustainability efforts, branding, and financing new projects, RECs still encounter basic background questions.
Register for the REMA webinar (http://renewablemarketers.org/resource/webinars.asp) and hear from industry experts Blaine Collison, Director of the EPA's Green Power Partnership, Bill Eddie, President of OneEnergy Renewables, and Kathy Loftus, Global Leader of Sustainable Engineering and Energy Management of Whole Foods as they describe what RECs are, who uses them, and how RECs help build more renewable generation. If your company is considering supporting renewable energy, this webinar is one of the easiest ways to quickly understand how RECs can help you meet your green power needs.
View the webinar and learn
•What a "REC" is, how it's created and tracked
•The major supporters of RECs, both in the private and public sectors
•How RECs help finance renewable energy projects
•Why companies large and small purchase RECs to meet their sustainability and renewable energy goals.
•Additional insights during a robust 'Question and Answer' session with the speakers
Who should attend the webinar
•Corporate Sustainability Officers
•Building Superintendents
•Energy project developers
•Utility providers
•Financiers
•Energy aggregators and traders
•Renewable energy component manufacturers
Speakers
•Blaine Collison, Director, US EPA Green Power Partnership
•Bill Eddie, President, One Energy Renewables
•Kathy Loftus, Global Leader of Sustainable Engineering and Energy Management, Whole Foods
Registration Information
•Advanced registration is required (http://renewablemarketers.org/resource/webinars.asp)
•This webinar is free of charge
•You only need a computer, internet access, and at least one hour of your time
•Time and Date: Wednesday, June 27 at 2PM ET / 11 AM PT
Featured Product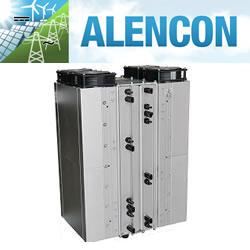 Alencon Systems is the premier manufacturer of high power, high voltage DC:DC optimizers for alternative energy applications including solar, battery energy storage, Microgrids, Fuel Cells and Electric Vehicle charging. Alencon's DC:DC converter offerings include the SPOT, BOSS and CUBE series DC:DC converters. The SPOT is a modular, uni-directional DC:DC solution ideal for solar applications. The BOSS is a modular, bi-directional unit for use with battery energy storage. The CUBE is a monolithic DC:DC converter which is available in both uni-directional and bi-directional modalities. Pictured above, is the Alencon SPOT.