New SunSteer™ product line uses electronic steering and driveline technologies to follow the sun
SAGINAW, Mich. – Global automotive supplier Nexteer Automotive announced today it is expanding its product

portfolio into the alternative energy market. The company's first product, SunSteer™, is a solar tracking actuator
and will be built at the company's world headquarters in Saginaw Mich. Nexteer's engineering and
manufacturing expertise was applied to the design and development of the device, allowing for world class
reliability and performance in this emerging market.
"The team at Nexteer relied on our industry leading automotive technologies to develop a product for the
renewable energy market that accurately positions solar arrays to follow the sun", said Vince De Zorzi, senior
vice president and chief operations officer at Nexteer. "SunSteer™ is built right here in the U.S., with more than
90 percent U.S. content and greater than 50 percent of its content produced in Michigan, including the Great
Lakes Bay Region."
SunSteer™ uses a precision built, high-efficiency ball screw/ball nut combination that provides operating
efficiencies of up to 95 percent. This provides the ability to reliably move solar array loads with best-in-class
energy consumption. Under normal operating conditions, SunSteer™ will accurately track the sun's position,
while consuming less than $2.00 of energy per year. High-performance coatings developed under extreme
vehicle testing environments are used on SunSteer™ to reduce corrosion and provide long life field performance
of greater than 20 years in the field.
"We found that our products offered levels of reliability and efficiency that were in many cases unprecedented in
the alternative energy markets," said David Westphal, executive director for the SunSteer™ program. "This has
allowed us to develop new product applications that help provide long life expectancy and very low energy
losses, both critical needs in the global pursuit of low cost energy."
SunSteer™ positioning accuracy of less than one degree provides a highly cost effective solution to
photovoltaic, concentrated photovoltaic and concentrated solar power. Utilizing Nexteer's advanced electronic
power steering technology, SunSteer™ requires no hydraulic fluids and provides high mechanical load
capabilities with minimal environment risk or impact.
"SunSteer™ fits perfectly into the Great Lakes Bay Region's economic development partnership that focuses on
the regional development of comprehensive solar solutions and manufacturers" added De Zorzi.
ABOUT NEXTEER
Nexteer Automotive is a multi-billion dollar global steering and driveline business solely dedicated to electric and
hydraulic steering systems, steering columns and driveline products for original equipment manufacturers. Its
10,000 employees serve more than 60 customers in every major region of the world. The company has 20
manufacturing plants, five engineering centers and 15 customer service centers strategically located in North
and South America, Europe and Asia. Nexteer Automotive's customers include GM, Fiat, Ford, Toyota, Chrysler
and PSA Peugeot Citroen, as well as automakers in India, China, and South America.
www.nexteer.com
Featured Product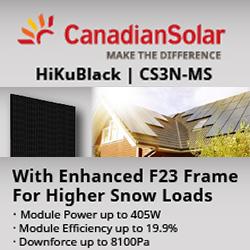 Aesthetic appearance for residential systems: With black backsheet & black frame, Power range 380 ~ 405 W, Low power loss in cell connection. Enhanced reliability: · Low temperature coefficient (Pmax): -0.34 % / °C, LID LeTID less than 2.0%, Lower hot spot temperature, Better shading tolerance.