The affect on China's overall wind tower industry will be relatively minor due to the small percentage maintained by the export sector.
LONDON, UK (GlobalData), 20 June 2012 - Recent trade disputes with the US will do little to damage China's domination of the global wind tower market, finds a new report by business intelligence experts GlobalData.

Late last month, the US Commerce Department slapped tariffs on imports of wind towers from China following accusations that the Chinese government subsidized domestic manufacturers in order to flood the US market.
The tariffs range from 13.74% to 26%, depending on the company, and though the decision is preliminary (with the final order in October), if enforced it will damage the Chinese wind tower export industry by increasing prices and reducing demand in its largest market.
However, according to GlobalData's latest report, the affect on China's overall wind tower industry will be relatively minor due to the small percentage maintained by the export sector.
The Asian giant exported 2.4 Gigawatts (GW) and 2.6GW of towers in 2010 and 2011 respectively, but these numbers are dwarfed by the 18GW of towers installed at home.
In 2011 alone, China installed 12,766 towers, accounting for 53% of the global market. To put this figure in perspective, the second largest market shareholder was the US, with a comparatively few 3,782 installations. Due to lower production costs, favourable government subsidies and the sheer scale of manufacturing in the country, China is both the world's largest producer and consumer of wind towers.
2011 was a fantastic year for the global wind energy market, following a dip the previous year. From a value of 74,192 Megawatts (MW) in 2006, the installed capacity grew at a Compound Annual Growth Rate (CAGR) of 26.3% to reach 238,351 MW in 2011. This is expected to grow further still to 427,338 MW by 2015.
The financial crisis substantially hindered the increase of wind power capacity in 2009 and 2010, but the revival of suspended projects in 2011 witnessed a steep rise which is expected to continue in 2012.
Financial incentives such as feed-in tariffs and capital support programs including tax credits and loan guarantee programs, along with mandates such as renewable portfolio standards, will continue to drive the wind power market.
Against this backdrop, GlobalData expects wind energy capacity to increase significantly by 2020 in turn driving the demand for wind towers in the future.
ABOUT GLOBALDATA-
GlobalData is a leading global business intelligence provider offering advanced analytics to help clients make better, more informed decisions every day. Our research and analysis is based on the expert knowledge of over 700 qualified business analysts and 25,000 interviews conducted with industry insiders every year, enabling us to offer the most relevant, reliable and actionable strategic business intelligence available for a wide range of industries.
Featured Product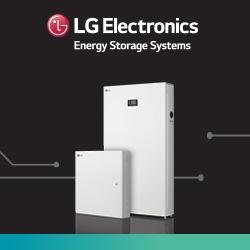 Meet LG Electronics Home 8 Energy Storage System (ESS), a whole home battery backup solution built with installers and their homeowner customers in mind. The ready-to-deploy Home 8 features just one SKU and a modular assembly for fast installation. It can be AC-coupled or solar-powered and is engineered with a grid-connected inverter, four battery modules, and a Smart Energy Box featuring a 7'' LCD touchscreen with commissioning wizard for easy setup. Each Home 8 unit can store up to 14.4 kWh of usable power, helping homeowners gain pure independence from the grid. Plus, installers can connect up to four units, bringing customers up to 57.6 kWh of total backup power-all easily managed and monitored through intuitive mobile apps.