We expect lithium to become a critical-supply mineral
SAN ANTONIO, Texas--Nova Mining Corp. (OTCBB:NVMN): MarketResearch.com has announced the addition of the new report "Lithium Ion Batteries Outlook and Alternative Energy Vehicles, Technologies, Markets, Competitors and Opportunities: 2010-2020 Analysis and Forecasts" to their collection of Energy market reports. Reportedly, the market for lithium ion batteries has grown to $11 billion and is expected to reach $43 billion by 2020. The report can be seen at: http://www.marketresearch.com/David-Company-v3832/Lithium-Ion-Batteries-Outlook-Alternative-6842261/

Nova Mining Corp announced on Monday that the Company has moved to secure valuable lithium supplies by executing a Letter of Intent with Mongolian National Mining Consultants Limited (MNMC) for the exclusive right to purchase 100% of the lithium produced from MNMC mining properties at a discount to market price. As part of the deal, Nova Mining will have the right to perform Due Diligence, prior to both parties negotiating a Definitive Mineral Production Agreement. MNMC is the registered owner of multiple mining properties that are located in Mongolia.
"We expect lithium to become a critical-supply mineral," said James Dilger President of Nova Mining Corp. "Nova Mining has moved to secure the lithium production from three major licensed Lithium fields. We believe this will prove to be a very lucrative development. Lithium is in very high demand due to consumer electronics manufacturing, new electric vehicles and new military needs putting pressure on the current worldwide supply," he concluded.
Nova Mining Corp. (NVMN) seeks the most out potentially lucrative mining projects and supplies of strategic high-demand minerals, such as lithium, as part of its newly-instituted aggressive business model. Lithium is the main ingredient in long life batteries, like those used in many of Apple's (NASDAQ: AAPL) popular electronic devices, Microsoft's (NASDAQ: MSFT) new Surface tablet and General Motor's (NYSE: GM) new Volt electric automobile.
More information on Nova Mining Corp can be seen at: http://www.nova-mining.com
About Nova Mining Corp. (OTCBB: NVMN)
Nova Mining Corporation is a Nevada corporation listed on the OTCBB under the trading symbol NVMN. The Company's is a growth-focused entity that seeks to acquire an international portfolio of strategic high-demand mineral mining assets. The Company operations philosophy includes securing local partners with strong management abilities and proven records for low production cost and high return on investment. Nova Mining is listed on the NASDAQ OTC exchange under the symbol NVMN. NVMN competes in an industry sector that includes Freeport McMoRan (NYSE: FCX).
Featured Product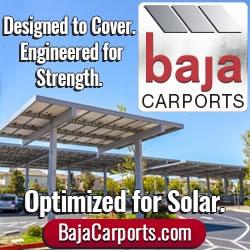 Baja Carports offers an extensive solar support system product line customized to customers' site specifications by in-house engineers, meeting their parking lot coverage, plus optimal PV production needs. Baja's Full Cantilever Tee is often paired with its Semi and Full Cantilever carports to meet live/loads up to 60psf and wind speeds to 160mph. All Baja products are pre-fabricated, bolted connections, pre-galvanized structural steel for fast on-site installation and project aesthetic requirements."