New York, New York - June 22, 2012 - Solar stocks report at Investorideas.com Investorideas.com, a leader in renewable energy stock research for independent investors releases solar stocks commentary from solar expert, J Peter Lynch following some positive moves in solar stocks FSLR and CSUN today.
New York, New York - June 22, 2012 - Solar stocks report at Investorideas.com Investorideas.com, a leader in renewable energy stock research for independent investors releases solar stocks commentary from solar expert, J Peter Lynch following some positive moves in solar stocks FSLR and CSUN today.

Solar Stocks Commentary with J Peter Lynch at Investorideas.com
http://www.investorideas.com/PL/
As I said in my article on 28 May 2012:
"It is always difficult to determine when to buy a stock or when to buy into a depressed industry sector, like our current solar sector. But when I look back in history it is sometimes informative to read some quotes by famous investors regarding situations such as this - here are three.
"The time to buy is when there's blood in the streets." Baron Rothschild
"I buy when other people are selling". J. Paul Getty
"Bull markets are born on pessimism, grow on skepticism, mature on optimism, and die on euphoria". John Templeton
Today's solar market segment certainly fits ALL of these quotes - the blood is running on the streets, Everyone is selling or has sold and the mood is without question one of pessimism.
It would seem that now is the time to buy some solar stocks and see if history repeats itself - it DOES violate all of the rules I have outlined for you in all past articles, but if one wanted to take a crazy flyer this would be the time. This assumes you are aware that it is highly risky and maybe just a trade.
What I am going to do is to research all of our stocks and some of the related ETF's and come back to you, very shortly, with a list of the stocks and ETF's that I think are the strongest, technically speaking so that IF you want to take a flyer you will at least be buying the strongest technical stocks".
At that time every one of our solar stocks were BELOW their 50 day moving average and they were oversold by an average of roughly 74% and nothing positive was in sight.
Join Investor Ideas Members to access the Renewable Energy stocks directory, water stocks, biotech stocks, defense stocks directories and the Insiders Corner
Since then they have started to turn around and a number of stocks have moved ABOVE their 50 day moving average and they are also showing positive momentum both weekly and monthly. See the following table of solar stocks as of the close yesterday.
I have highlighted Five (5) stocks that I feel are the strongest of the entire group at this time:
CSIQ, CSUN, HSOL, SOL, TSL
So if you wanted to take a "crazy flyer" KNOWING FULL WELL that it is highly risky especially in light of the weak and volatile market - these would be the five stocks I would select.
Solar Stock as of the Close Thursday June 21st
Investorideas.com Newswire
Background Analysis Notes
Keep in mind that there are two basic types of equity (stock) analysis. Below are a brief description of each and its primary purpose:
Fundamental Analysis - this is the analysis of the fundamental financial condition of a company to identify which stocks you may want to buy when the timing is right. This form of analysis will give you NO indication of the best time to buy a stock or sell a stock.
Technical Analysis - this form of analysis will tell you "when" to buy a stock and when to sell the stock. It will do this by showing you (in chart format) the basic interaction of supply and demand and when the two change and shift which will indicate a time to buy or a time to sell.
Mr. Lynch has worked, for 35 years as a Wall Street security analyst, an independent security analyst and private investor in small emerging technology companies. He has been actively involved in following developments in the renewable energy sector since 1977 and is regarded as an expert in this field. He was the contributing editor for 17 years to the Photovoltaic Insider Report, an early publication in PV that was directed at industrial subscribers, such as major energy companies, utilities and governments around the world. He is currently a private investor and has from time to time been a financial/technology consultant to a number of companies. He can be reached via e-mail at: SOLARJPL@aol.com. Please visit his website for the promotion of solar energy � www.sunseries.net.
Research more solar stocks on global stock exchanges - and up to 1300 renewable energy stocks at Investorideas.com http://www.investorideas.com/Companies/RenewableEnergy/Stock_List.asp
About Investorideas.com - a leader in cleantech investor research
Investorideas.com was on the of the first investor sites covering investing in water and renewable energy stocks and has become a global go-to destination for investors researching the cleantech sector, with stock directories, company news, commentary from experts, research reports and industry resources and links. Investors can follow solar stocks commentary on our site with solar expert, J. Peter Lynch.
Investors - sign up for free green stocks trading alerts and news
http://www.investorideas.com/Resources/Newsletter.asp
Follow Renewable Energy Stocks onFacebook.com
http://www.facebook.com/renewableenergystocks
Disclaimer/ Disclosure: Our sites do not make recommendations. Nothing on our sites should be construed as an offer or solicitation to buy or sell products or securities. We attempt to research thoroughly, but we offer no guarantees as to the accuracy of information presented. All Information relating to featured companies is sourced from public documents and/ or the company and its management and is not the opinion of Investorideas.com. Learn more: www.InvestorIdeas.com/About/Disclaimer.asp
BC Residents and Investor Disclaimer: Effective September 15 2008 - all BC investors should review all OTC and Pink sheet listed companies for adherence in new disclosure filings and filing appropriate documents with Sedar. Read for more info: http://www.bcsc.bc.ca/release.aspx?id=6894 Disclaimer: The views and opinions expressed in the research published are those of the individual companies and writers and not necessarily those of Investorideas.com® or any of the industry sector portals. At the time of publication, writers may hold positions in the stocks or companies mentioned .
For more information about Investorideas.com contact:
800.665.0411
Featured Product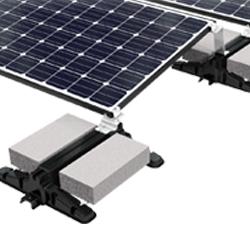 Preformed Line Products introduces the POWER MAX Ballasted Roof Mounting System. The POWER MAX solar mounting system is engineered to maximize energy output on commercial flat roofs. Developed with the professional installer in mind, this system offers adjustable inter-row spacing in the field of up to 11 inches. It features 50% fewer components and a simplified design resulting in faster assembly rates and labor savings on every project. Available in a flush mount, 5˚ or 10˚ tilt or higher density dual tilt design, the POWER MAX base arrives stacked on pallets providing easier transport to the roof. Engineered as a fully ballasted, non-penetrating system, it accepts standard concrete blocks and is qualified by wind tunnel testing.