The North American Board of Certified Energy Practitioners (NABCEP) was established by representatives of the Solar Industry
The North American Board of Certified Energy Practitioners (NABCEP) was established by representatives of the Solar Industry, renewable energy organizations, state policy makers, educational institutions and trade associations to support renewable energy industries in providing high quality, certified practitioners.

As the desire for renewable energy source and energy efficiency in businesses, homes and vehicles increase, the demand for highly trained professionals has too. The ability for a business or homeowner to trust the installer or sales technician is of key importance to obtain marketability for your company and increase work availability. NABCEP Certification helps you achieve that goal.
NABCEP has three certification programs: NABCEP Entry Level Program,
NABCEP PV Technical Sales Certification
and NABCEP PV Installer Certification. Each NABCEP class has specific requirements that are discussed in detail in either the NABCEP PV Technical Sales Job Task Analysis or the PV Installer Job Task Analysis. Each NABCEP class will provide training which requires you to pass an exam at the end of the course. Obtaining NABCEP certification identifies you as a contractor worth trusting and distinguishes you in your specific field.
If you have the desire to work in the renewable energy profession, the NABCEP Entry Level Program will help you earn entry level positions as you work towards advancement in your career. Anyone wishing to take the NABCEP entry level exam should already have a basic understanding of the fundamentals of application, design, PV operation and solar heating systems. Completing the NABCEP Entry Level Exam for your
NABCEP Certification
does not replace any state licensing or insurance requirements needed for your area.
NABCEP also provides PV Technical Sales Certification. This certification qualifies more than just sales professionals. It provides certification for application engineers, financial and performance analysts and site assessors. The PV Technical Sales Certification is not an entry level program. You must provide documentation of training, education and credentials to qualify for this exam. Dependent upon your job field, you will be required to provide an official diploma from an accredited school.
NABCEP follow the requirements for ISO/IEC 17024. NABCEP PV Technical Sales Certification and NABCEP Entry Level Program do not replace your state licensing requirements, but NABCEP does put you a step above the rest. Being NABCEP certified in your field will allow you to earn the trust of businesses and homeowners alike. In return, this will provide you broader marketability and increased business potential.
Featured Product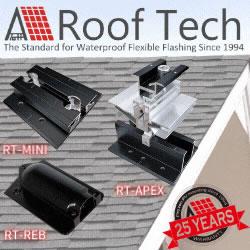 Now Roof Tech brings you the most innovative, watertight mounting systems ever developed for solar photovoltaic systems. Designed and manufactured exclusively for us by Japan's longtime leader in roofing technologies, Roof Tech products are 100% code-compliant and offer fast, simple installation and huge savings on shipping costs due to their compact, rail-less design. Learn more about our full line of versatile PV mounting solutions now available for residential installations. The next generation in rooftop solar mounting solutions."