US Manufacturer to Offer Customized Design and Fabrication of PV Modules and Mounting Systems
Lake Mary, FL., June 25, 2012 – Advanced Solar Photonics, LLC (ASP), an American manufacturer of photovoltaic equipment and provider of turnkey alternative energy systems, today announced it has launched a custom PV manufacturing division for large scale solar power projects.

ASP's custom manufacturing division meets a growing demand for flexible forms of manufacturing PV modules and ground mount systems. Custom manufactured PV equipment is especially suited for building integrated photovoltaic products (BIPV) where applications require a dual application of solar energy systems installed as visually pleasing building architecture and design.
"With the addition of custom manufactured PV products, ASP is not only expanding its 100 MW production capacity within our product portfolio, but also meeting the needs of large scale applications and customers in expanding solar industry segments including architects and builders" said Lawrence Hefler, spokesman for ASP.
The company's custom design and fabrication capacity for extruded roof, ground mount, and vertical mounting systems can meet a range of site specifications for a variety of building materials, locations and project sizes. The ASP team of in-house engineers can design customized PV equipment for virtually any building application including the requirement for high wind loads.
The company's customized product applications include large scale commercial and residential system sizing and design of grid-tied and off-grid vertical wall, roof, and ground mounted BIPV including architectural canopies. The custom manufacturing division also provides value added services in the areas of engineering, procurement and construction.
Advanced Solar Photonics, LLC (ASP), is a manufacturing and R&D center for crystalline silicon solar photovoltaic (PV) panels for utility, commercial and residential applications. Based on the latest cell efficiency, light transmission, and encapsulation technologies, ASP focuses on high-efficiency, state-of-the-art solar PV modules ranging from 200 Watts to 400 Watts. ASP is the second largest producer of crystalline silicon PV panels in the United States and is one of the few producers in the US of Buy American Act compliant products suitable for government, military and municipal projects. www.advancedsolarphotonics.com
Featured Product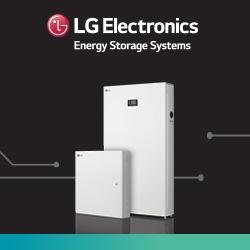 Meet LG Electronics Home 8 Energy Storage System (ESS), a whole home battery backup solution built with installers and their homeowner customers in mind. The ready-to-deploy Home 8 features just one SKU and a modular assembly for fast installation. It can be AC-coupled or solar-powered and is engineered with a grid-connected inverter, four battery modules, and a Smart Energy Box featuring a 7'' LCD touchscreen with commissioning wizard for easy setup. Each Home 8 unit can store up to 14.4 kWh of usable power, helping homeowners gain pure independence from the grid. Plus, installers can connect up to four units, bringing customers up to 57.6 kWh of total backup power-all easily managed and monitored through intuitive mobile apps.