June 27, 2012

The Alliance for Rural Electrification (ARE) launched today its Small Wind Campaign, which aims to eliminate the bottlenecks and misconceptions that have been preventing decision-makers in developing countries to integrate this technology in their energy choices for rural communities, even when they are one the most cost-effective solutions.
"Under favorable natural conditions, small and medium wind generation prices are significantly lower than those of conventional energy sources, such as diesel and kerosene", says Simon Rolland, ARE's Secretary General, "Also, over their life-time, prices can even be lower than for other types of renewable energy solutions. Yet, decision-makers still neglect these technologies."
During the Campaign, which will last one year, ARE will approach energy sector decision-makers in developing countries through several workshops, webinars and one-on-one meetings to assess their country's or community's energy needs, fill information gaps and share best-practices on small wind development.
All these recommendations are publicly available in a new position paper, "The potential of small and medium wind energy in developing countries. A guide for energy sector decision-makers". The paper includes case studies from China, Indonesia, Madagascar and Namibia. The most common bottlenecks are also addressed, such as the lack of feasibility studies and assessment of wind speed data, the lack of quality standards and certifications, and insufficient financing mechanisms.
"The fact is that decision-makers have a major influence not only in the expansion of small wind systems, but in its performance and safety. This guide identifies policy tools that national and local governments can implement to bring the benefits of small wind turbines to their communities" says Simon Rolland.
The opportunity that small wind represents for population and businesses located in rural areas of developing countries is also largely underlined in this paper. Three of the main benefits of small wind:
*The global market for small wind technologies is forecasted to more than double between 2010 and 2015, reaching USD 634 million. A significant part of this growth will take place in developing and emerging markets.
*They are easy to integrate in already existing mini-grids, mostly run by diesel. As it has been proven, such hybrid systems offer a more sustainable, higher quality and lower costs solution than diesel-only systems.
*The price of small wind lies between USD 0.15-0.35 per kWh over the lifetime of the system, making it under favorable conditions cheaper than small PV, small hydro and other renewable solutions.
ARE's main recommendations to energy decision makers:
*Local communities and businesses need to be better educated on the benefits arising from renewable energy and small wind technologies in particular. They need to be encouraged using these alternative sources that increase reliability of electricity supply and reduce the electricity bills.
*More cooperation should take place with expert companies. Such partnership agreements and joint ventures will assure increased project quality and also generate local employment.
*Subsidies play a major role in accelerating small wind development, therefore, they should be directed towards this and other clean, sustainable and cost-competitive technologies, rather than supporting diesel and other conventional energy sources.
About ARE
The Alliance for Rural Electrification (ARE) is the only international business association in the world focusing on the promotion and the development of small scale renewable energy solutions for rural electrification in developing countries.
Based on the experience of about 70 members, coming from all sectors relevant to renewable energies in developing countries, it develops technological, political and financial recommendations, which are made available to policy makers and other stakeholders in the field of rural electrification.
www.ruralelec.org
Featured Product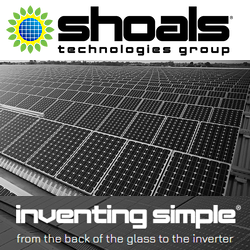 Inventing Simple® isn't just a slogan to us, it's a way of life. Using simple plug-and-play ideology, we revolutionized solar installations in 2003 with our Interconnect System™. Our harnessing system is now the gold standard EPC's use around the world. By using simple ideas, we are making solar energy a more affordable and clean power source for future generations.