Successful Implementation of SEPTA Pilot Program Paves Way for Energy Storage Solutions to Support the Reliability of the Electric Grid
PHILADELPHIA, PA—June 27, 2012— The Southeastern Pennsylvania Transportation Authority (SEPTA) today unveiled its ground-breaking recycled energy and optimization project. The pilot project captures the braking energy of its trains on the Market-Frankford Line and will integrate that power into the regional electric grid. The new technology demonstrates a first-in-the-world achievement for public transit, and truly showcases the potential of the smart grid.

When SEPTA's trains brake at each stop to load and unload thousands of Pennsylvania passengers, the kinetic energy of the train is converted into electricity. But like many transit agencies across the country, without a method to capture that excess electricity, it could not be stored and used at a later time. Energy storage has proven to be a solution for capturing regenerative braking to provide supply savings. It has also been proven that energy storage can provide support to the electric grid through the frequency regulation market. But these two approaches have never been brought together into one technological innovation that creates a recurring economic value. Today, SEPTA is successfully launching the fulfillment of a new smart grid solution that captures the regenerative braking energy of trains through a large scale battery storage system and will deploy that energy as virtual power into PJM's wholesale power frequency regulation and energy markets.
"Through this pilot project, SEPTA will become even more energy efficient, which will help control operating costs—benefiting both customers and taxpayers. We've made our system cleaner, greener and more efficient in recent years – things like replacing traditional diesel buses with diesel-electric hybrids and installing energy-efficient lighting at stations, facilities and offices," said Joe Casey, General Manager at SEPTA. "These measures are helping us control costs in tough economic conditions – and making us a better neighbor in the communities we serve."
SEPTA launched the pilot project in partnership with Viridity Energy, a smart grid technology firm that specializes in electric market integration. Saft was selected to provide the design, manufacturing and commissioning of its Intensium Max20 P System, a battery energy storage system (ESS). Envitech Energy, a member of the ABB group, was selected to provide power controls, power conversion and system integration using its ENVISTORETM System. With these partner technologies and Viridity Energy's VPower™ software optimization system, the train's regenerative braking energy is being transformed into virtual power that will provide significant energy savings and new energy revenue to support SEPTA's progressive sustainability goals.
Viridity Energy's VPower™ optimizer enables the simultaneous process of regenerative capture, regulation performance, and energy market participation by selecting which market to participate in based upon market pricing, battery state of charge, and availability of regenerative energy from the trains.
"We are excited to be a part of this groundbreaking achievement," said Audrey Zibelman, CEO and President of Viridity Energy. "In a smart grid world, two-way digital information exchange opens up new horizons. This project truly showcases the potential of that smart-grid world, particularly as it applies to the transportation industry. By harnessing the regenerative braking power of the trains and empowering SEPTA to become a virtual power generator that can provide valuable and environmentally responsible service to the electric grid, we can fulfill the promise of interconnected systems on the grid and behind the meter responding dynamically to reliability and economic signals to strengthen the grid."
Saft lithium-ion (Li-ion) battery technology supplies megawatt level energy storage for the project. Saft, a leader in advanced technology batteries, has provided the project with one of the first dual purpose trackside Energy Storage Systems (ESS) in the United States.
"As a fully integrated, containerized Li-ion solution, the Saft system provides efficiency of greater than 95 percent and maximizes system availability, as well as helps to manage power flows," said Thomas Alcide of President of Saft America. "
"This project has high visibility within our company because it bridges two of the key industries we serve -- transportation and energy, " said Daniel Cotton, General Manager, ABB-Envitech. "It is a model that is perfectly aligned with our vision of the smart grid and greener transportation for the future. We believe the people of Philadelphia should be proud that two local companies, SEPTA and Viridity, have shown the leadership for making this project a world's first of its kind."
The successful launch of this project, funded in part through a 2010 Pennsylvania Energy Development Authority (PEDA) grant program as well as support from Ben Franklin Technology Partners, demonstrates that energy storage can satisfy multiple value streams by accepting regenerative energy from train braking while simultaneously providing a revenue source by participating in the PJM frequency regulation marketplace.
Congressman Chaka Fattah (D-PA), a leader in Congress for energy efficiency and innovation in manufacturing through the U.S. Energy and Commerce Departments, praised Viridity Energy for its latest technological advance.
"Conceived in America, saving energy and dollars in Philadelphia – what an unbeatable combination we're seeing today from the partnership of SEPTA, Viridity Energy, Saft and Envitech," Fattah said. "Viridity is Philadelphia home-grown and bursting with smart, innovative technology. This is the kind of American can-do innovation that will keep our nation number one in the world. Congratulations to Viridity – already recognized by the White House as a Champion of Change – and to SEPTA for showing the way in public transit."
www.septa.org
Featured Product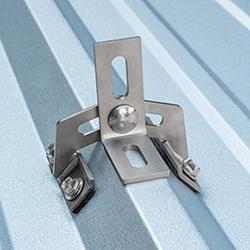 Explore new lines of income for your solar installation business with QuickBOLT's Stone Coated Steel roof mounts designed in partnership with metal roof manufacturers themselves. These SCS roof mounts work on all metal tile profiles and will help you bring in money you're missing out on. By not driving into the roofing material, QuickBOLT's Stone Coated Steel roof hooks maintain the integrity of the roof. Install with ease and confidence knowing your roof is protected against the harsh elements that these hooks are designed for.