Survey polls delegates at Europe's largest energy event
London, UK, 28 June, 2012 – A survey of delegates at POWER-GEN Europe and its co-located conferences Renewable Energy World Europe and Nuclear Power Europe found that nearly half (48%) believe that the best opportunities for Europe's power engineering sector will come from outside of Europe in the next five years. 34% felt the best opportunities would arise in power plant modernisation and refurbishment in Western Europe and only 18% have faith in the best opportunities coming from new power plant construction in Western Europe.

The survey was designed to quantify delegates' views on some of the key issues affecting the industry in 2012. One of the most divisive topics covered at this year's conference was Germany's 'Energiewende' which caused heated debate at the Joint Plenary Session. Delegates were similarly split. Just over half (52%) of those polled believe that Germany has made the wrong decision to phase out all of its nuclear power generation by 2022, compared to 34% who felt it was the right decision. A further 14% felt it was too early to say.
The survey also asked for opinions on whether the EU will meet its self-imposed target of having renewable resources account for 20% of total energy consumption by 2022. Another topic that divides the industry; 43% expect the EU to meet its target but 38% expect it to fail with a further 19% feeling that it was still too early to tell.
"POWER-GEN Europe attracts some of the best and brightest professionals in the industry and due of the calibre of our delegates, this survey is a fantastic opportunity to gauge the mood of the industry and identify burgeoning trends that will come to define Europe's future," said conference director Nigel Blackaby. "Our strategic conference tracks were particularly well attended this year and we will continue to support demand for this aspect of the conference by offering a greater selection of strategic topics in Vienna next year."
The delegates questioned for the survey consisted primarily of engineers and senior managers representing construction, electric utility and power generation companies, equipment and service suppliers, consultancies, universities and research centres.
About PennWell events
Renewable Energy World Europe and POWER-GEN Europe are owned and organized by PennWell Corporation. These events form part of a series staged annually in North America, Europe, Asia, and the Middle East, and provides exhibitors with an international 'one-stop-shop' for penetrating markets and presenting their products and services to a global audience. For delegates and visitors, the events offer a dedicated forum tailored to their specific regional needs, putting them in touch with suppliers of solutions to their particular problems. The conferences address topical issues critical to the development of power generation in the host region. www.renewableenergyworld-europe.com
• Renewable Energy World Europe
Renewable Energy World Europe encompasses the need for greater inclusion of renewable sources into the energy mix as governments strive to ensure the supply of power and electricity sufficiently meets the ever increasing demand.
• POWER-GEN Europe
POWER-GEN Europe is the Continent's premier conference and exhibition, and the place where the power industry comes to meet, share information and do business. A three-day event, it comprises a busy exhibition floor populated by major power industry players. Alongside the exhibition, a high-level multiple track conference offers insightful and thought-provoking presentations detailing the latest strategies and technology developments and delivered by leading experts in the power industry.
About PennWell
Established in 1910, PennWell Corporation is a leading international multimedia provider of business intelligence, producing 45 print and online publications, and over 60 conference and exhibitions, research, databases, internet-based services and other information products to strategic global markets. PennWell POWER-GEN conferences and exhibitions are the world's leading business-to-business power generation events, together connecting over 50,000 industry professionals each year. In addition to its headquarters in Tulsa, USA, PennWell has offices throughout the world, including England, Germany, Russia and Hong Kong, to provide its customers and partners with a truly global service. www.pennwell.com
Media contact:
Amy Redhead
Tel: +44 (0) 20 7242 8867
Email: amyredhead@aspectuspr.com
Web: http://www.aspectuspr.com
Featured Product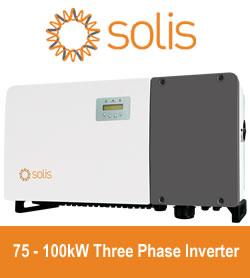 Solis75kW - 100kW series high-power string inverters are widely used in industrial and commercial rooftops. Solis's new three-phase string inverter is the first choice for industrial and commercial photovoltaics. 75-100kW three phase series string inverter have Maximum 28 strings input, support "Y" type connection in DC side. Maximum string input current 13A, support bifacial modules access.Supports anti-PID function to improve system efficiency.