ReliOn has delivered more than 4.3 megawatts of fuel cell products to customers in 42 U.S. States and 34 countries.
Spokane, WA – ReliOn, the leading provider of high reliability fuel cell solutions for backup power and grid-support applications, today announced it has delivered more than 4.3 megawatts of fuel cell products to customers in 42 U.S. States and 34 countries. During the period of time ReliOn's products have been commercially deployed, they have amassed over 86 million combined hours of reliable backup coverage to customer equipment. They have ensured continued service through multiple hurricanes, ice storms, snow storms and other natural or human-caused events that have disrupted grid power. ReliOn solutions operate successfully in many diverse environments around the world, including Indonesia, Australia, Norway, India, Spain, Ecuador, Puerto Rico and China. ReliOn customers include global leaders in wireless, wired and public safety network communications, railway services and utilities, as well as branches and agencies of Federal and State governments.

ReliOn's President and CEO, Gary Flood, noted, "ReliOn's path to this point has been to do one thing and do it to the best of our ability. Our focus in the communications backup power markets has been key to the development of highly reliable and industry-proven backup power products. New products and partnerships will be announced in coming weeks that will expand the company's reach to support grid-supplement markets where alternative power products are used to support a less reliable electrical grid or no grid at all. These markets will set ReliOn up for its next phase of growth. As we begin to expand our reach, we will continue to proudly serve and support our current backup power customers in multiple industries with new features and products as well."
New markets for ReliOn are taking the company beyond its historical leadership in the telecommunications backup power market and into grid support, high duty cycle markets worldwide. With multiple fueling options available for ReliOn fuel cells, these markets have the ability to more than triple ReliOn's addressable market in short order. In May, ReliOn announced a collaboration agreement with Hy9 to deliver a methanol fuel processor that will supply hydrogen to ReliOn's fuel cell products. ReliOn is also in negotiations with another supplier of a different fuel processor technology for products and solutions aimed at developing markets around the world. ReliOn anticipates that its focus on global growth areas will increase its international business significantly.
About ReliOn:
ReliOn's continuous innovation in core technology has made it a leader in the development and marketing of modular, fault-tolerant fuel cell products for customers seeking solutions to critical backup power applications. With more than 1,400 sites serving customers in 42 U.S. states and 34 countries, ReliOn customers enjoy the benefits of high reliability, low operating costs and easy maintenance. ReliOn products are tested or certified to stringent standards from CSA, UL, CE, Telcordia NEBS and China TTL Labs. ReliOn fuel cells…simply powerful. www.relion-inc.com.
Featured Product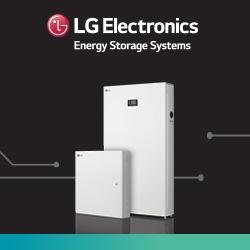 LG Solar is transforming today's solar landscape, offering precision-manufactured and high-efficiency solar panels for homeowners who demand high performance, reliability and consistently strong energy yield from a brand they can trust. LG modules feature outstanding durability, appealing aesthetics and high-efficiency technology, backed by a limited 25-year product, performance and labor (up to $450) warranty. Homeowners who purchase LG Solar modules know they're protected by a diversified global brand.