GTM Research Publishes Its Flagship Analysis on the PV Supply Market, Detailing the Technology, Economic and Competitive Dynamics at Play in the Global PV Industry
BOSTON, June 27, 2012 -- GTM Research forecasts 21

gigawatts of PV module manufacturing capacity to come offline by 2015 as the
global market reconciles a dire supply-demand imbalance. GTM's latest
report, PV Technology, Production and Cost Outlook: 2012-2016 estimates
module supply to be in excess of global demand by nearly 110 percent this
year; or roughly 59 gigawatts of total supply compared to
30 gigawatts of total demand. The pain is more acute when considering the
greater PV supply chain, as the report forecasts wafer, cell and module
manufacturers to retire a combined 60 gigawatts of capacity by 2015.
GTM's 291-page report covering the PV wafer, cell and module market is the
most granular analysis to date on the past, present and future of this
embroiled industry. The report includes bottom-up cost and price estimates
for wafers, cells and modules, as well as competitive analysis of suppliers
along a range of metrics including manufacturing capacity, cost, balance
sheet strength, technology, bankability and business model. Download the
report's brochure to see the complete scope at
http://www.greentechmedia.com/research/report/pv-supply-2012.
"The PV manufacturing industry has evolved from a period of secular growth,
in which profits grew year-over-year, to a period of cyclical growth" said
Shyam Mehta, Senior Analyst at GTM Research and the report's author.
"Fundamentally, this is due to the sheer magnitude of overcapacity that
exists in the value chain today and the speed with which feed-in tariffs are
being extinguished the world over. We are in a transitional time in the
history of the market; the training wheels of subsidies are coming off, and
the next few years will see the industry's first attempt to ride without
support. Consequently, the next three years will be an extremely difficult
period."
Mehta commented that aside from a select few low-cost, top-tier firms such
as Yingli Green Energy and Trina Solar that can attain manufacturing costs
of $0.45 per watt by 2015 and sustained profitability, module suppliers
cannot expect to attain financial success by selling commoditized
"plain-vanilla" modules. This is due to the intense level of overcapacity
and consequent compressed pricing outlook over the next few years.
"Most current PV manufacturers will have to take a long, hard look in the
mirror and make tough decisions about their future role in the industry,"
said Mehta. "They can either exit gracefully, or continue as producers in
the undifferentiated component market where they have no inherent advantage,
or take risks in terms of their business, technology and product models,
knowing full well these moves could also end in failure."
For more information on this report and the state of the PV supply market,
visit http://www.greentechmedia.com/research/report/pv-supply-2012.
ABOUT GTM RESEARCH
Greentech Media delivers news, research, and analysis in the
business-to-business greentech market. Using an integrated platform, we
produce high quality products, whether it is industry news, market research
or networking events. GTM Research, the research arm of the company,
produces in-depth market reports and is the publisher of PVNews, a monthly
solar market tracker. Greentech Media is headquartered in Boston, MA, with
operations in New York, NY, and San Francisco, CA. For more information,
visit: greentechmedia.com
Featured Product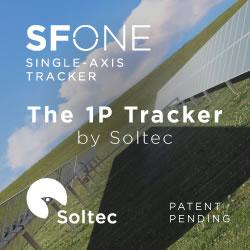 Under the slogan "engineered for greatness", the SF8 tracker aims to revolutionize the photovoltaic market with its new minimum 2x60 configuration and 4 to 6-strings. This tracker is elegantly designed while it reinforces its structure to perform in any terrain. In addition, the SF8 tracker increases the rigidity of its structure by 22% more than the previous generation of Soltec trackers, the SF7. The SF8 is specially designed for larger 72 and 78 cell modules, an increasing market trend.