Courses aim to educate and train future scientists, engineers and researchers
June 28, 2012 RENO, Nev. – The second annual National Geothermal Academy is underway at the University of Nevada, Reno with an increase in international participation for business and industry as well as strong participation by students from around the country.

"We are creating a program that will benefit geothermal development not just in the state, but nationwide and worldwide," Wendy Calvin, director of the University's Great Basin Center for Geothermal Energy, said. This year 16 of the 44 students come from countries scattered around the world, including places such as Kenya, Japan, India and Saudi Arabia.
A series of field trips was added to the academy this year that will allow students to explore geothermal geology at Long Valley Caldera near Mammoth Lakes and direct-use power production in Klamath Falls, Ore., as well as trips to geothermal sites here in northern Nevada – Humboldt House and Rye Patch – and The Geysers, a complex of 22 geothermal power plants, with more than 350 wells, located in northern California.
Topics covered during the eight-week course include geothermal energy utilization, geothermal geology and geochemistry, geophysics, drilling and reservoir engineering, power plant design and construction and environmental and business policy principles.
The academy runs through Aug. 10 and features a wide variety of geothermal professionals and professors, including personnel from Cornell University, University of Calgary, Southern Methodist University, Oregon Institute of Technology, Stanford University, University of Utah, West Virginia University as well as recognized industry leaders and consultants.
The University of Nevada, Reno was chosen to host the academy by a cooperative of top geothermal schools because of its expertise in geothermal research and exploration and the abundance of geothermal activity in Nevada. Nevada has the largest amount of geothermal energy of any state in the nation, with local and national leaders pledging support and funding to help develop the technology necessary to both increase energy production and reduce its cost.
For more information about the academy, visit http://www.unr.edu
Featured Product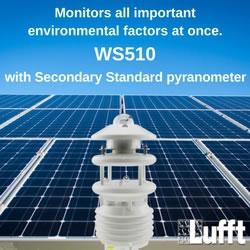 Professional weather sensors form the heart of large solar plants supporting their operation and performance. Lufft was the first manufacturer to combine several sensors in one housing, bringing the largest multiparameter weather sensor family with 19 members into being. Many of them are well-suited for solar site assessment and continuous monitoring. The most commonly used one is the WS600 delivering data on temperature, air pressure, wind, relative humidity and precipitation. Through its open protocol, it can easily be attached to radiation sensors e.g. from Kipp&Zonen. Other models have an integrated Silicon, Second Class or Secondary Standard radiation sensor.