• A delegation comprised of 25 government and industry representatives from Thailand visited the OPDE solar photovoltaic plant in Écija, Seville. • Their goal was to learn about the development and maintenance of the industrial group's big PV power plants.
2 July 2012. A delegation comprising representatives of the government, public institutions and private businesses from Thailand has been to OPDE Group with the aim of learning about the development and maintenance of big solar photovoltaic plants. The visitors from Thailand visited the group's 1.8MW solar plant in Écija, SEVILLE (Spain).

They also learnt about the advantages of the MECASOLAR solar trackers in terms of facility development, solar power production and easy maintenance with the use of solar tracking in solar PV farms.
The delegation comprised 25 representatives of different organisations and agencies, including the National Business and Public Organisation Committee and the Nong Khai Chamber of Representatives. They were welcomed in Seville by Mar Sahagun on behalf of MECASOLAR and David Carten, Director of Operations and Sales for South-East Asia at PROINSO, working at the OPDE Group office in Thailand.
The visit of the Thai delegation will enable OPDE Group to cement relations with the public and private sectors of the photovoltaic industry in Thailand, cooperating with the local solar photovoltaic business. The visit came after the Group set up a new office in Bangkok, PROINSO SOUTH ASIA, to start operating in South-East Asia in 2012, as recently announced.
Thailand is a strategic market to OPDE Group, a leader in the region with regard to measures and policies promoting the development of solar photovoltaic energy. 'Only last year, the country approved solar power projects for 700MW,' said Mr Carten. In the next two years, the Asian market (China, Japan, India and South-East Asia) is expected to grow from 4,000MW installed (2011) to 10,000MW (2013).
In fact, one of the Group's strategic goals in the region is to sign cooperation agreements in neighbouring countries like Cambodia, Laos, Vietnam, Philippines, Singapore, Indonesia and Malaysia, thus strengthening PROINSO's presence in the area.
New MECASOLAR horizontal single-axis tracker
The Thai delegation visited OPDE at about the same time as the Group launched the new 140kWp HORIZONTAL SINGLE-AXIS tracker by MECASOLAR, characterised by quick and easy installation, similar to that of fixed mount systems, plus 30% more output for a similar investment. Another remarkable aspect of the assembly in the field is that all the parts (beams, rails, etc.) are held together with fasteners and no welding is required, which saves time and reduces costs.
The tracker can have up to 12 axes moved by a single motor. Each axis can carry up to 48 modules, 11.6kW per axis. This means that each horizontal tracker with a single motor can reach a power of 140kWp and a solar panel area of 960m2.
The new tracker joins the SINGLE-AXIS POLAR tracker the company started to manufacture in December 2011. Both trackers were developed by the multinational company's R&D Department to complete the product portfolio, including dual-axis and single-axis trackers, roof- and ground-mounted fixed structures and foundation screws.
Corporate Information: OPDE Group www.opdegroup.com
OPDE Group is comprised of three different companies: OPDE, MECASOLAR and PROINSO.
Specialising in the development, construction, and maintenance of PV solar farms, OPDE is one of the world's leading companies in the PV solar industry in the world. By the end of 2011, the company had grown by 50% to reach 152MW worldwide, and it is expected to go beyond 200MW this year.
MECASOLAR specialises in the design, manufacture and supply of single- and dual-axis solar trackers, ground-mounted fixed structures and foundation screws for PV solar facilities and roof-mounted fixed structures. It has manufacturing facilities in Spain, Greece, Italy, India, Australia, Canada and USA. From 2005 to 2011, MECASOLAR supplied a total 343.4MW. This is equivalent to 27,169 solar trackers manufactured and installed. Currently, the company's single- and dual-axis solar trackers and fixed structures can be found in 498 PV solar farms around the world.
PROINSO specialises in the supply of modules, inverters, fixed structures and trackers for PV solar stations. The company has distribution agreements with TRINA SOLAR, CANADIAN SOLAR, SCHOTT Solar, JINKO Solar, YINGLI Solar and LDK Solar for modules, and with SMA and INGETEAM for inverters. In addition, it is a distributor of trackers and fixed structures from MECASOLAR. Currently, its International Network of Qualified Installers has 2,082 member companies.
With international markets accounting for 88% sales, PROINSO has offices in Spain, Germany, Greece, Italy, USA, Great Britain, France, Canada, China and the Czech Republic. Recently, the company set up branches in Australia, India and Thailand to strengthen its presence in South-East Asia. From 2005 to 2011, PROINSO supplied 1.1GW.//
Featured Product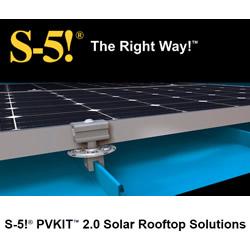 The concept of combining PV arrays with standing seam metal roofing is growing-for good reasons. Metal roofs have a life expectancy of more than 40 years. Shouldn't the mounting system last as long? With S-5! zero-penetration attachment technology and PVKIT 2.0, the solarized metal roof is the most sustainable system available -and without compromising roof warranties! PVKIT 2.0 is the also the best solution for attaching PV modules directly to any exposed fastener metal roof.