PV Manufacturing in the U.S. – A vision for the future
June 29, 2012 MIDLAND, MICH., USA: Eric Peeters, Dow Corning Solar Solutions vice president , and Greg Bausch, Hemlock Semiconductor Group Solar market manger, will serve as featured speakers at Intersolar North America/SEMICON West, a solar and semiconductor trade conference and exhibition, July 9-12, in San Francisco.

Peeters will share insight on the role of solar manufacturing in the U.S. in a session titled, "PV Manufacturing in the U.S. – A vision for the future." In this session, Peeters will introduce Dow Corning Solar Solutions as well as the program's capability and investment in the U.S. and globally. He will share the key PV solar industry challenges and the role the U.S. can play to solve these challenges.
"Dow Corning and Hemlock Semiconductor are committed to supporting the global solar industry through uncovering and creating new opportunities to deliver improved cost efficiency, durability and performance," said Peeters. "Our mission is to help the solar industry continue on its path toward economic parity with conventional energy sources, and to become a sustainable energy option globally."
The presentation is free and will take place 10:30 a.m., July 10 in Moscone North Hall. Other panelists include Andrew Beebe, chief commercial officer for SunPower; Ned Harvey, chief operating officer and vice president of Finance for Rocky Mountain Institute; Jeannine Sargent, president of Renewable Energy and LED Lighting for Flextronics; Chase Weir, chief executive officer for Distributed Sun; and Bettina Weiss, vice president of the PV Business Unit for SEMI.
Bausch will speak as part of a program, "Reliability across the value chain: Materials matter." During his session titled, "Polysilicon for High Efficiency, Low Cost Crystalline Silicon PV," Bausch will discuss how the proper choice of materials is critical to the long-term success of the solar industry. He will also discuss some of the fundamental challenges of the solar market including reducing the cost of installed photovoltaics.
The presentation will take place at 2:45 p.m., July 10 at InterContinental Hotel San Francisco. Presenting with Bausch will be Eric Romano, strategic marketing manager for Dupont Photovoltaic Solutions.
Intersolar North America is a continuation of the world's largest series of exhibitions by Intersolar, focusing on photovoltaics and solar thermal technologies. The conference will feature 200 speakers hosting 30 sessions, and more than 22,000 visitors at the exhibition.
SEMICON West, which is co-located with Intersolar North America, is the flagship annual event for the global microelectronics industry. It is the premier event for the display of new products and technologies for microelectronics design and manufacturing, featuring technologies from across the microelectronics supply chain, from electronic design automation, to device fabrication (wafer processing), to final manufacturing (assembly, packaging, and test).
About Hemlock Semiconductor Group
Hemlock Semiconductor Group (hscpoly.com) consists of several joint venture companies owned by Dow Corning Corporation, Shin-Etsu Handotai and Mitsubishi Materials Corporation. Hemlock Semiconductor is a leading provider of polycrystalline silicon and other silicon-based products used in the manufacturing of semiconductor devices and solar cells and modules. Hemlock Semiconductor began its operations in 1961.
About Dow Corning
Dow Corning (dowcorning.com) provides performance-enhancing solutions to serve the diverse needs of more than 25,000 customers worldwide. A global leader in silicones, silicon-based technology and innovation, Dow Corning offers more than 7,000 products and services via the company's Dow Corning® and XIAMETER® brands. Dow Corning is equally owned by The Dow Chemical Company and Corning, Incorporated. More than half of Dow Corning's annual sales are outside the United States. Dow Corning's global operations adhere to the American Chemistry Council's Responsible Care® initiative, a stringent set of standards designed to advance the safe and secure management of chemical products and processes.
Featured Product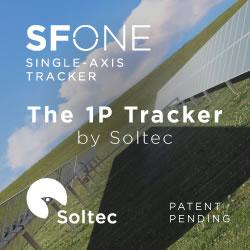 SFOne is the 1P single-axis tracker by Soltec. This tracker combines the mechanical simplicity with the extraordinary expertise of Soltec for more than 18 years. Specially designed for larger 72 an 78 cell modules, this tracker is self-powered thanks to its dedicated module, which results into a lower cost-operational power supply. The SFOne has a 5% less piles than standard competitor, what reduces a 75% the labor time.