Danfoss Solar Inverters introduce their new DLX Series of transformer based string inverters DLX 2.0 UL, 2.9 UL, 3.8 UL, 4.4 UL. Suitable for all PV cell technologies the DLX delivers a maximum of 97.3% efficiency in a well-designed, user-friendly solution.
Increased choice for installers

"We see a new generation of home-owners investing in PV products where both design and performance plays an important role in their buying decision." Says Mark Haug, Director Strategic Marketing. "With the new DLX range we can offer distributors and installers a full range of residential solutions, which delivers both world-class efficiency and high-end design," he adds.
Maximum efficiency
The efficiency of a DLX inverter, combined with excellent MPP tracking delivers extraordinarily high yields, even under fluctuating and dynamic conditions. With high efficiency at low irradiation and long operation time, maximum energy harvest is always ensured.
Extremely versatile
Galvanic isolation makes it possible to use the DLX with all PV cell technologies, including thin film. A highly protected casing and quiet operation allows the unit to be mounted inside or outside the building, and a two-way interactive display offers multiple languages for easy country configuration.
User-friendly and easy to install
The DLX's full-colour screen has an intuitive user-interface with clear and easy to access graphs and diagrams. A full monitoring solution is built-in and no extra PC software is required. For larger sites, a single inverter acts as a monitoring hub, to provide a single point of access for performance checks – either remotely or on-site – at any time.
For additional information please visit us at: Solar Power International 2012 at the Orange County Convention Center, booth number 501.
For additional press and media information, please contact:
Jennifer Anderson, Marketing Analyst at 815.639.8698 or via email at janderson@danfoss.com
For additional Product information and Sales, please contact:
Mark Haug, Director, Strategic Marketing at 815.979.1755 or via email at mark.haug@danfoss.com
Danfoss is a global leader within energy-efficient solutions that help save energy and meet the challenge of climate change. Our key competencies are cooling of food, air conditioning, control of electrical motors and heating in buildings – as well as solutions for renewable energy such as solar power. Danfoss also comprises Sauer-Danfoss, which is among the world's leading manufacturers of mobile hydraulics. We have built up our competencies within energy-efficient solutions for 77 years now. Today Danfoss employs 24,000 employees globally and has 110 sales companies around the world. Read more about Danfoss; www.Danfoss.com, and our energy-efficient solutions; http://www.danfoss.com/SolutionsReady/
Featured Product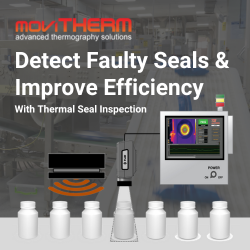 MoviTHERM's Thermal Seal Inspection (TSI) solution provides precise and reliable detection of defects in a variety of packaging types, including pouches, bags, blister packs, bottle caps, and more. By detecting defects in your packages, the TSI solution helps increase efficiency in your production line and ensures top-quality packaging is delivered to your customers every time. With state-of-the-art technology and an experienced team, MoviTHERM is dedicated to delivering accurate inspection solutions and peace of mind to its clients. Contact MoviTHERM today to learn more about their thermal seal inspection solution.