Danfoss, the Danish-based International Power Electronics manufacturer, will showcase their new central inverter solution and demonstrate their string inverters' suitability for residential, commercial and large power plant builds for the utility scale market.
A Trusted Name

"Our U.S. team has worked very hard to establish a name people can trust in Power Electronics throughout North America," said Mark Haug, Director of Strategic Marketing for Danfoss Solar Inverters, America. The Danfoss Group has over forty years of knowledge and expertise in power electronics, and has developed products which have made it one of the leading players in solar inverter technology.
Introducing the newest member of the Danfoss product family
Our SLX Series of Utility Scale inverters are designed for Sun Belt regions with a product range from 1 MW to 1.5 MW. The SLX is liquid cooled, and redefines high performance. Designed with the toughest criteria on all critical components and paired with an extremely robust and reliable inverter designed to last for 25 years, the SLX was made to deliver true maximum output power on a continuous basis. With this design concept, the SLX Series achieves peak efficiencies of up to 98%, and works at ambient temperatures of up to +50° C. All of the components are optimally cooled for maximum performance. A highly efficient liquid cooling system is employed for the semiconductors and inductors, which use our patented ShowerPower® switching technology. This integrated technology is equipped with speed-controlled fans and pumps to avoid internal pollution and lengthen maintenance intervals - even in dusty regions.
Utility scale PV power plants will benefit from using an SLX Series central inverter that has been designed and built with reliability, installation and maintenance in mind – all of which reduce the total cost of ownership. Danfoss inverters are easy to use, flexible to integrate and simple to install. The SLX central inverter takes the pain out of installation by delivering a pad mounted solution, which results in a quicker start up time.
American Facilities
In preparation for its North American launch, The Danfoss Group has expanded its Loves Park facilities to accommodate a dedicated Danfoss Solar Inverters U.S. team. The Illinois expansion will also bring new jobs, research & development and manufacturing to several regions throughout the country. "Utilizing our high power competency for our VLT Drives facility we were able to bring our SLX Series of Utility Scale Inverters to the market in a year and a half", said Haug.
Full product range from Residential to Utility scale
Danfoss Solar Inverters offer a comprehensive line of solar inverters for residential, commercial, large power plant, and utility scale installations.
For the residential sector, Danfoss has introduced the new DLX Series of string inverters with a 2.0 kW to 4.4 kW range. These units are built to withstand the harshest environments with IP65 protection and deliver the highest efficiency and production capability available for an isolated unit.
"We are very excited with our new extended range, and look forward to offering globally proven technology and solutions to a market on the verge of an energy transformation. Our inverters are designed to meet the complete range of residential, commercial and large power plant builds," Haug concluded.
For additional information please visit us at: Solar Power International 2012 at the Orange County Convention Center, booth number 501.
For additional press and media information, please contact:
Jennifer Anderson, Marketing Analyst at 815.639.8698 or via email at janderson@danfoss.com
For additional Product information and Sales, please contact:
Mark Haug, Director, Strategic Marketing at 815.979.1755 or via email at mark.haug@danfoss.com
Danfoss is a global leader within energy-efficient solutions that help save energy and meet the challenge of climate change. Our key competencies are cooling of food, air conditioning, control of electrical motors and heating in buildings – as well as solutions for renewable energy such as solar power. Danfoss also comprises Sauer-Danfoss that is among the world's leading manufacturers of mobile hydraulics. We have built up our competencies within energy-efficient solutions for 78 years now. Today Danfoss employs 23,500 employees globally and has 110 sales companies around the world. Read more about Danfoss; www.Danfoss.com, and our energy-efficient solutions; http://www.danfoss.com/SolutionsReady/
Featured Product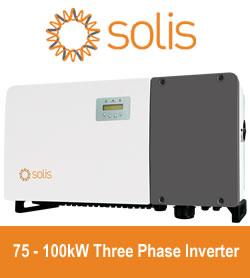 Solis75kW - 100kW series high-power string inverters are widely used in industrial and commercial rooftops. Solis's new three-phase string inverter is the first choice for industrial and commercial photovoltaics. 75-100kW three phase series string inverter have Maximum 28 strings input, support "Y" type connection in DC side. Maximum string input current 13A, support bifacial modules access.Supports anti-PID function to improve system efficiency.