The eight executive directors of GCL-Poly Energy share a salary of nearly 11 million dollars.
Rotterdam, July 3, 2012 - According to Solarplaza's "Top 10 Best-Paid Management Boards", GCL-Poly Energy Holdings has the best-paid management board of all stock-listed solar PV companies. Compared to 2010, GCL board members' average compensation has increased by 114%. GCL is one of four companies in this Top 10 that have increased their board's compensation since 2010.

The other three companies who have increased their management board's average compensation are Sunpower (3.3%), REC Solar (6.9%) and Suntech Power (104%). Most companies in the Top 10, however, have made cuts in their board's aggregated compensation in 2011. Conergy, for example, decreased their management board's average compensation by 43%, Power-One by 47% and First Solar by 59% (despite First Solar occupying second place in Solarplaza's "Market Capitalization Top 10"). These management compensation cuts reflect the industry-wide struggle.
GCL-Poly, however, seems to be moving in the opposite direction. The eight executive directors of GCL-Poly Energy share a salary of nearly 11 million dollars. Each executive director receives approximately 1.3 million dollars a year (exclusive of shares). This means that GCL's directors earn about 3.5 times as much as the executive directors of Suntech, which occupies the tenth position in the Top 10.
An interesting detail is the fact that the relatively well-performing Chinese manufacturers Jinko Solar, Trina Solar and Yingli Solar are not listed in the Top 10. They can be found in the Top 20, though, and they are steadily increasing their management board's average compensation.
See the full Top 10 list of The World's Best-Paid Management Boards of Stock-Listed Solar PV Companies in 2011 and the link to the complete Top 20 here: http://www.solarplaza.com/top10-best-paid-management-boards/
About Solarplaza
Solarplaza is the independent global platform for knowledge, trade missions and events related to solar energy. Solarplaza is located in Rotterdam and has already organized over thirty international conferences and trade missions in Greece, California, France, Taiwan, China, India, Italy, Germany and Spain, to mention just a few.
Featured Product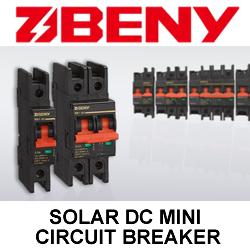 The BB1-63 modular miniature circuit-breakers can be used in solar DC circuits up to 1200 VDC (4-poles execution). Application in solar DC circuits, battery energy storage systems and UPS. Arc flash barrier design keeps solar equipment more safe and reliable. For DC circuit over-current protection.