Latest Echo® Solar System Powered by the Nation's First Residential Solar Electric + Solar Thermal Lease; New Echo solar system, delivers both electrical and thermal energy savings, now with a $0-down lease
Two New Breakthroughs in Residential Solar:

Latest Echo® Solar System Powered by the Nation's First Residential Solar Electric + Solar Thermal Lease
New Echo solar system delivers both electrical and thermal energy savings, now with a $0-down lease
FREMONT, CA, July 10, 2012 -- EchoFirst® Inc. announced today the launch of its newest Echo solar system,
and the nation's first combined solar electric and solar thermal lease for the residential market.
The newest Echo solar system builds on the success of the Echo+ solar system, which has been installed in over 1,000 homes. While basic solar electric or "PV" systems only provide electricity, Echo and Echo+ provide electricity and thermal energy.
Echo provides electricity and hot water, while Echo+ provides electricity, hot water, home heating, and home cooling.
The latest product includes patented technology that make it even more powerful – Echo delivers up to 25% more thermal energy than the industry's leading flat plate collectors. Integrating solar electric and solar thermal energy capture in the same system means dramatically increased energy capture when compared to existing solar electric only systems. And the system is engineered to be easy to install on existing homes, so now even homeowners with small or difficult to install-on roofs can realize significant energy savings on both their electricity and water heating bills.
"We're bringing more than a technology breakthrough to the market," said Vikas Desai, the CEO of EchoFirst. "We're bringing superior financing solutions to our customers as well. The newest Echo solar system is powered the Echo CompleteLease, the only residential solar lease that also harnesses the power of solar thermal technology for added utility savings. The Echo CompleteLease translates both electricity and thermal energy to savings, so homeowners can realize all the benefits of Echo in a lease. And with a dedicated fund of $50 million, just as our first step, we've got the financial strength to service our customers across the country."
Adam Evans, co-founder of Sunpro Solar in Wildomar, CA added: "We've been in solar and electrical contracting for 10 years and this is clearly the most powerful, most advanced product we've every carried. In addition to superior performance, Echo includes the features my customer's really value, like performance monitoring. And when I demonstrate features like Echo's Remote Thermostat Control, which lets them control their home thermostat from their mobile phone, it shows how much more technologically advanced Echo really is."
"Echo is really a superior value for the homeowner in every way," continued Desai. "Homeowners can trade in their utility bills for a no-money-down new Echo solar system and start saving immediately. And they can save with confidence, because the Echo CompleteLease includes our 100% performance guarantee, solar system insurance, and free repairs or replacement for all major system components for the full 20 years. And, when the lease ends, customers can upgrade to the latest Echo technology, buy the system, or simply end the lease. It's the smart way to go."
Homeowners will be able to lease an Echo solar system for their existing home, or as part of a new home in quality builders across the country. Echo+ will continue to be built into the nation's most energy efficient homes at select new home builders across California, Nevada, Florida, Texas, North Carolina, Utah and Arizona.
About EchoFirst Inc.
EchoFirst Inc. designs, manufactures, and markets the Echo and Echo+ solar systems. Echo solar systems supplement conventional solar electric PV panels with a unique solar thermal technology that captures the heat from the PV panels. Echo and Echo+ generate not only electricity, but also thermal energy for water heating. EchoFirst headquarters are in Fremont, California. For more information, please visit www.echofirst.com.
Featured Product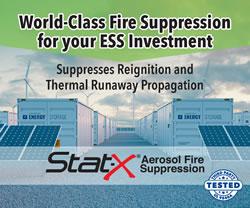 Stat-X® condensed aerosol fire suppression is a solution for energy storage systems (ESS) and battery energy storage systems (BESS) applications. Our Stat-X condensed aerosol fire extinguishing product was tested for efficacy in suppressing li-ion battery fires. It was found that the product successfully extinguished single and double cell battery fires. This testing was conducted in parallel with a large battery fire testing program on behalf of a large energy storage company.