To provide a suite of asset management tools and services to their operating wind assets.
July 09, 2012 Juhl Wind, Inc. (OTCBB: JUHL), a Leader in Community Wind Power is pleased to announce today that it has selected international renewable energy consultancy, Natural Power, to provide a suite of asset management tools and services to their operating wind assets.

Juhl Wind will deploy Natural Power's industry leading asset management tools including remote monitoring and operations through WindCentre™ and WindManager™, both of which will be supported by a suite of analysis tools and services for site performance optimization. "We are very excited to be improving our operational capabilities by utilizing Natural Power's proven remote monitoring services. We see this as the first step of a long-term working relationship with Natural Power and look forward to utilizing their other asset management tools across our portfolio in the near future," stated Tyler Juhl, Vice President of Operations for Juhl Wind Inc.
Jim Adams, Natural Power's President of North America Operations comments, "The North American Natural Power team is absolutely delighted to build on the success of our industry leading Asset Management services with an industrious and leading developer like Juhl Wind. Their commitment to the wind industry, long-term vision and desire to operate top performing projects makes them an ideal client for Natural Power's world-renown Asset Management services."
Gary Winslow, Senior Project Engineer at Natural Power added "Natural Power has been very successful at developing a cutting edge asset management business and reputation in the United Kingdom and other markets. We are working to repeat that success in the North American market and our relationship with Juhl Wind will greatly help us to advance our progress toward that goal. We have the utmost respect for the values that are held by the Juhl Wind team."
Natural Power's WindCentre™ is an independent control centre operated around the clock 365 days a year. It is run by team of experienced operators, and is facilitated by a purpose built software solution which facilitates health and safety management, work order recording, and site, wind turbine, and substation access control. Remote fault reset services are also provided by WindCentre™. WindCentre™ services are currently being used in the management of more than 1,100 MW of wind capacity.
WindManager™ is a web-based portfolio Information Management System that supports wind farm operations across the entire value chain from weather forecasts through to plant technical status and planning, to nomination and delivery of power into the grid. Overviews of portfolio, site, turbine, and component–level information are readily available through a highly customizable, always-on web interface.
For more information on Natural Power email sayhello@naturalpower.com or visit www.naturalpower.com
For more information on Juhl Wind Inc. please visit www.juhlwind.com
Juhl Wind, Inc.
Juhl Wind is an established leader in the renewable energy industry with a focus on Community Based Wind Power development, ownership and management throughout the United States and Canada. Juhl Wind pioneered Community-Based wind farms, developing the currently accepted financial, operational and legal structure providing local ownership of medium-to-large scale wind farms. To date, the Company has completed 21 wind farm projects and provides operations management and oversight across the portfolio. Juhl Wind services every aspect of wind farm development from full development and ownership, general consultation, construction management and system operations and maintenance. With its consolidation of the Valley View, Winona County and Woodstock Hills wind farms, the Company has now invested in and operates 21.7 MWs of wind power through its independent power producer ("IPP") subsidiary, Juhl Renewable Assets, Inc. Through its subsidiary, Juhl Renewable Energy Systems, Inc. ("JRES"), the Company also provides full sales and service to smaller, on-site wind and solar projects in addition to our larger Community Wind Farms. Now, with its acquisition of Power Engineers Collaborative, Juhl provides a full range of engineering services to the energy industry, building systems markets and heavy industry. Juhl Wind is based in Pipestone, Minnesota and has offices in Chicago, Minneapolis, Madison and Milwaukee. Juhl is traded on the OTCBB under the symbol JUHL. Additional information is available at the Company's website at www.juhlwind.com
Featured Product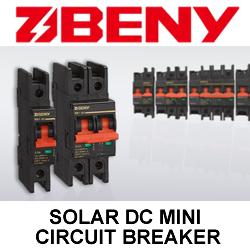 The BB1-63 modular miniature circuit-breakers can be used in solar DC circuits up to 1200 VDC (4-poles execution). Application in solar DC circuits, battery energy storage systems and UPS. Arc flash barrier design keeps solar equipment more safe and reliable. For DC circuit over-current protection.