The event featured an impressive mix of speakers.
Walnut Creek, CA (July 3, 2012) - More than 200 friends, family members,

customers, business partners, and government officials gathered together
last week to celebrate Quick Mount PV's new 133,600 square-foot facility in
the Shadelands Business Park, Walnut Creek, CA. TMC Financing co-hosted the
celebration, which featured a building tour, remarks, food, and live music
by Quick Mount PV's two house bands, The Quick Brass Band and Wave Array.
VIPs from federal, state, and local government agencies were on hand to
celebrate the milestone and to pay tribute to Quick Mount PV's founders,
Stuart and Claudia Wentworth, widely lauded as "visionaries in the solar
industry." Speakers also recognized TMC Financing's role in enabling Quick
Mount PV's growth. TMC worked with Quick Mount PV to provide 90% financing
via the SBA 504 program to enable the company to finance the acquisition and
renovation of its new home. SBA 504 financing offers businesses
below-market, fixed rate financing for the acquisition, renovation or
construction of commercial real estate.
The event featured an impressive mix of speakers, including: Ken Lewis,
President, Quick Mount PV; Barbara Morrison, President & CEO, TMC Financing;
Elizabeth Echols, SBA Regional Administrator; Bob Simmons, Mayor of Walnut
Creek, CA; Karen Mitchoff, Contra Costa County District IV Supervisor; and
Louis Stewart, Deputy Director, Innovation and Entrepreneurship, California
Governor's Office of Business and Economic Development.
Gayle Larson, Field Representative for California Assemblymember Joan
Buchanan and Brian Hooker, Deputy District Director, Congressman John
Garamendi (CA10), presented Claudia and Stuart Wentworth with proclamations
in honor of the milestone.
Quick Mount PV President Ken Lewis kicked off the day's spirited remarks by
announcing that, "today we officially document that Quick Mount PV has
arrived."
"We are fortunate to have a very innovative staff with great leadership from
the owners of the company, Claudia and Stuart Wentworth," said Lewis.
"Stuart's genius and innovative abilities keep our R&D group very busy and
productive. And the two of them working side-by-side with us each day keep
customers interested by not only delivering great products but also
delivering great customer support."
TMC Financing President Barbara Morrison acknowledged the impact small
business "heroes" are having on the nation's economic rebound.
"The SBA 504 loan was our connection," said Morrison. "It is the financing
that enabled Quick Mount to buy this building. It makes it possible for
businesses to control their overhead, which helps them control their own
destiny. This facility allows the company to occupy a building that is
larger than what they need giving them space to grow in a systematic way.
That is the message that I hope many more small businesses will hear so that
we can help more businesses accomplish the dream that both Claudia and
Stuart have had for so long."
SBA Regional Administrator Elizabeth Echols told the audience how impressed
she is by Quick Mount's "desire and passion to be a pioneer" in the solar
industry.
"Quick Mount PV is showing what America's manufacturers can do," said
Echols. "In fact, manufacturers in America are making a comeback. We hear so
much about jobs going overseas, but companies like Quick Mount PV are
proving that we can create good jobs in America -- good sustainable jobs --
and still be competitive, so that is just a true success story."
"Our goal at the SBA is to help companies grow and succeed and create new
jobs," said Echols. "All of this of course doesn't happen by magic. It takes
great partners like TMC Financing. This is a great example of a
private-public partnership that truly works. When Quick Mount decided that
they wanted to demonstrate confidence and faith in their future and in their
growth and step out and purchase this facility, they turned to TMC, and TMC
was able to help them and played a critical role in making this dream come
true."
Mayor of Walnut Creek Bob Simmons thanked Quick Mount PV for deciding to
invest in the community, for the green jobs they bring to Walnut Creek, and
for "their marvelous reuse of an existing facility."
Contra Costa County District IV Supervisor Karen Mitchoff also gave a shout
out to the "public private partnership that goes into creating a business."
"One of the ways we're going to grow our way out of this (recession) is our
small businesses," said Mitchoff. "As a non-business person, when I see a
big building like this, I don't think of it as a small business, but I
understand that it is. It has heart, and soul, and 65 employees. I know that
you will grow it and do well."
Louis Stewart, Deputy Director of Innovation and Entrepreneurship,
Governor's Office of Business & Economic Development, rounded out the day's
remarks by telling audience members that "California leads the nation in
solar energy production and solar growth capacity."
"Quick Mount's ribbon-cutting is not only a testament to the results of
solid green energy policy but also an example of how public-private
partnerships can and should work to promote growth and economic
development," said Stewart. "Stuart and Claudia Wentworth are visionaries in
the solar industry."
Stewart also thanked TMC Financing and the SBA for making it possible for
making it possible for Quick Mount PV to "create sustainable local jobs in
California" and to do "the unthinkable, which is manufacturing in
California."
About Quick Mount PV:
Quick Mount PV (www.quickmountpv.com) manufactures building-code-compliant,
waterproof mounts used to secure solar electric (PV) and solar thermal (hot
water) systems to rooftops. Founded in 2006, Quick Mount PV has grown
rapidly to become the industry's leading seller of flashed rooftop mounts
for solar installations. With an emphasis on buying parts and components
from other U.S. manufacturers, the company complies with FTC regulations to
proclaim its products are "Made in the USA" and fulfills the requirements of
the Buy American provision contained within the American Reinvestment and
Recovery Act (ARRA).
Featured Product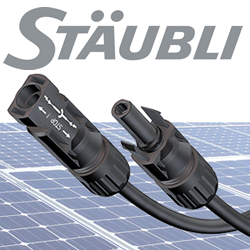 ​Stäubli Electrical Connectors are used on more than 300 GW, over 50% of the PV capacity worldwide. The MC4 family of UL and TUV listed products include connectors, in-line fuses, branch connectors, cable assembly and more.