Helping the industry bring down the cost of the balance of system components, making solar power more affordable and supporting an easy adoption by the mainstream
ALBUQUERQUE, New Mexico, July 9, 2012 — Unirac, Inc.® announced today that it is the first and only company to be certified under International Code Council Evaluation Service (ICC-ES) "Acceptance Criteria for Modular Framing Systems Used to Support Photovoltaic (PV) Modules" (AC428).

The Acceptance Criteria 428 explicitly defines requirements for solar infrastructure including:
· testing to withstand varying weather conditions
· meeting the manufacturer-specified lifespan
· and showing compliance with other critical durability and safety requirements as referenced in the 2009 and 2006 International Building Code® (IBC®) and International Residential Code® (IRC®).
ICC-ES reviewed and adopted Acceptance Criteria 428 in February 2011 and issued the Engineering Service Report (ESR) 3083 for SolarMount (E)volution in February 2012.
"This is a milestone for Unirac and the solar industry," said Juan Suarez, Unirac Senior Director of Engineering. "In this emerging industry, the lack of standards has produced wild variations in engineering quality and safety. By partnering with ICC-ES, we have achieved the first racking product certified to the IBC. We appreciate ICC-ES solar leadership and believe this will result in safer solar for our customers."
Unirac, Inc., a Hilti Group Company, and ICC Evaluation Service (ICC-ES) worked together, in conjunction with other industry organizations, to develop the ICC-ES Acceptance Criteria 428. The International Code Council (ICC) is the company that produces the International Building Code, the most widely accepted and trusted model code for structures in the United States.
To further sharpen its certification standards, Unirac also received ETL Mark Classification to UL Subject 2703 providing integrated bonding of PV modules. Both accreditations surround Unirac's SolarMount (E)volution product line.
"In order to remain competitive, Unirac must be forward thinking to ensure our products are compliant — specifically as safety and grounding requirements are enforced across the PV industry," said Peter Lorenz, Chief Executive Officer, Unirac. "With these certifications, we are helping the industry bring down the cost of the balance of system components, making solar power more affordable and supporting an easy adoption by the mainstream."
Within the last two years, Unirac has achieved the International Organization for Standardization ISO 9001:2008 certification for its Quality Management System and ISO 14001:2004 Certification for Environmental Management System, making Unirac the first solar infrastructure company to secure ISO 9001:2008 and ISO 14001:2004.
Unirac is excited to bring this news to Intersolar North America 2012. For more information about Unirac's full line of innovative PV mounting solutions, please visit us at Intersolar North America, Booth 9411, July 10-12 in San Francisco, CA.
About Unirac Inc.®
Unirac, a Hilti Group Company, is North America's leading provider of infrastructure for solar power systems. Recognized as an industry innovator on both the product and process side, Unirac is one of the fastest growing companies in the solar industry. Unirac has achieved certifications for both ISO 9001:2008 for QMS and ISO 14001:2004 for EMS. Its industrial-grade solar mount solutions meet 'Made in America', 'Buy American', ARRA and Ontario Power Authority FIT and microFIT criteria.
For more information about Unirac, please visit http://www.unirac.com.
Featured Product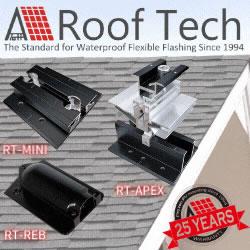 Now Roof Tech brings you the most innovative, watertight mounting systems ever developed for solar photovoltaic systems. Designed and manufactured exclusively for us by Japan's longtime leader in roofing technologies, Roof Tech products are 100% code-compliant and offer fast, simple installation and huge savings on shipping costs due to their compact, rail-less design. Learn more about our full line of versatile PV mounting solutions now available for residential installations. The next generation in rooftop solar mounting solutions."