Unirac's booth to provide attendees with an oasis of relaxation and information.
SAN FRANCISCO, California, July 6, 2012 ó Trade shows can be a hectic time for attendees as they navigate the hustle and bustle of the typical industry confab. InterSolar North America in San Francisco on July 10-12, 2012 at Moscone Center is no exception. Unirac, Inc., the solar industry's leading PV racking manufacturer knows this and has taken the lead in providing ISNA 2012 attendees with a top notch experience at their new booth, right in the heart of the trade show floor.

Unirac provides attendees with all the information they need on Unirac products in a quick and easy to navigate display. "Unirac prides itself on being the easiest in the PV racking industry to do business with," said Marcelo Gomez, Unirac Director of Marketing. "We're taking that expertise to InterSolar North America."
With two levels of display space, ISNA attendees will be able to find out everything they need on Unirac's residential, commercial, and utility solutions. The booth will be fully staffed with Unirac's industry leading engineers and sales team to answer any questions attendees might have. A new Unirac Theater will feature hourly live demonstrations of Unirac solutions and services, including the revolutionary SolarMount (E)volution racking system, the first racking system to be certified to AC428 by the International Code Council
Evaluation Service.
Attendees can also relax with a comfortable lounge area, complete with complimentary beer and refreshments. "No time to kick back? Pick up a free espresso at our reception desk, " said Gomez. "You can also enter drawings to win 50 and 100 dollar Visa Gift Cards. We look forward to seeing everyone in San Francisco!"
About Unirac, Inc.®
Unirac, a Hilti Group Company, is North America's leading provider of infrastructure for solar power systems. Recognized as an industry innovator on both the product and process side, Unirac is one of the fastest growing companies in the solar industry. Unirac has achieved certifications for both ISO 9001:2008 for QMS and ISO 14001:2004 for EMS. Its industrial-grade solar mount solutions meet 'Made in America', 'Buy American', ARRA and Ontario Power Authority FIT and microFIT criteria.
For more information about Unirac, please visit http://www.unirac.com.
Featured Product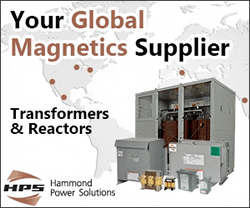 HPS is the largest manufacturer of dry-type transformers in North America. We engineer and manufacture a wide range of standard and custom transformers that are exported globally in electrical equipment and systems. We support solid industries such as oil and gas, mining, steel, waste and water treatment, and wind power generation. HPS leads the industry in these markets through its technical design strength, breadth of product, and manufacturing capabilities, making HPS a stronger company both fundamentally and financially.