Partnership Offers AWST's Resource Analysis and Uncertainty Reports Based on Site Data from Draker's PV Prospector Standalone Data Acquisition System
BURLINGTON, VT and Albany, NY – July 10, 2012 – Draker and AWS Truepower, LLC (AWST), today announced the creation of a joint marketing alliance that will combine the resources and expertise of both companies to offer solar project developers and investors start-to-finish bankable solar resource and energy production reports. Drawing from years of combined experience spanning hundreds of completed projects, the two companies will seamlessly offer proven and reliable field data collection services, data hosting, long-term resource assessment and energy modeling and uncertainty reports.

Commenting on the partnership, Draker CEO Chach Curtis said, "As solar PV projects grow larger and required investment increases, project developers and financers are increasingly seeking site-specific data to better understand expected energy production and lower their risks and finance costs. We are pleased to be working with AWST to provide these customers a single source for site data, resource modeling and energy projections for their prospective solar PV projects."
"With the emerging solar industry poised for rapid growth, adoption of proven methods to ascertain and quantify project risks is critical during financial transactions. We are leading the industry in these methods and look forward to partnering with Draker to offer a robust, comprehensive solution to the solar industry," added Marie Schnitzer, Vice President, Consulting Services at AWS Truepower.
Drawn from its more than 10-year history of independent solar PV performance monitoring, Draker's PV Prospector is a self-contained and robust data acquisition system perfectly suited for remote operation at unattended prospective solar PV sites. During site assessment, solar resource and other meteorological data are collected from PV Prospector over a period typically between 12 and 24 months. The data is then wirelessly transmitted in near real-time to Draker's servers where it can be accessed and viewed by customers through Draker's intuitive web application.
This data is also shared throughout the prospecting period with AWST's meteorologists and solar engineers. Using calibrated resource and energy assessment methods and a measure-correlate-predict (MCP)-type approach, AWST develops energy production models under a range of uncertainty scenarios. With more than 25 years of experience in meteorological studies and over 60,000 MW of wind and solar resource assessments, AWST's energy estimates and uncertainty analyses are among the most trusted in the industry.
About Draker

Draker provides accurate and highly reliable solar monitoring and asset management solutions that help owners and operators of commercial and utility-scale PV systems maximize the efficiency and profitability of their solar assets. As a supplier of integrated end-to-end monitoring solutions, Draker's turnkey systems combine proven field instrumentation with an intuitive web-based information management application and unmatched customer support. Draker is a fully integrated company that designs, manufactures and sells PV monitoring, management and controls systems into the global marketplace from its headquarters in Vermont, USA, with additional offices in California and New Jersey. For more information please visit our new website at www.drakerenergy.com.
About AWS Truepower, LLC.
AWS Truepower provides the most accurate, reliable, and innovative renewable energy project development and operations solutions available today. Energy developers, investors, utilities, system operators, and governments rely on the company's 30 years of experience, proven science and technology to reduce uncertainty, mitigate risk, and maximize return on their investments. Headquartered in New York, AWS Truepower has offices in North America, Europe and Asia. Learn more about the company online at www.awstruepower.com.
Featured Product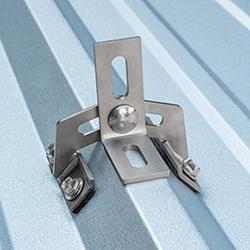 Error-Proof Compression: The QB2 doesn't leave any room for user error when it comes to Microflashing® compression. Once the Dual Drive Shoulder Screw is secured, the Microflashing® is compressed. Only 3 Components: The QB2 is comprised of Microflashing®, an L-foot and a Dual Drive Shoulder Screw. No more Nuts needed to tighten and secure the L-foot! Not only does this simplify the installation process, it also cuts down the installation time.