Solar micro inverter company showcases North American traction with key distribution partner at Intersolar North America
Intersolar North America, San Francisco, Calif., July 10, 2012: Enecsys Limited, a premier supplier of micro inverter products for the global solar market, announced today that it continues to hold its leadership position as a provider of technologically advanced micro inverters and monitoring systems worldwide. Enecsys currently delivers its products to more than 15 countries, including Germany, a frontrunner in demanding the highest level of certification and testing requirements for safety and grid connectivity. Additionally, Enecsys continues to make significant headway in North and South America, with the help of key distributors such as Albasolar.

By partnering with Albasolar, Enecsys is able to deliver its products to a wide spectrum of residential installers spanning multiple countries and regions. Part of what makes Enecsys Micro Inverters appealing to those markets is that they already meet multiple international certification and frequency requirements, and most importantly, deliver on their promise of maximizing energy harvest over the lifetime of the system. Additionally, Enecsys Micro Inverters maintain the industry's widest ambient temperature range of -40 to 85 degrees C, making them an ideal choice when dealing with varying climates. As a result, installers are able to provide their customers with the best option to easily and cost effectively incorporate solar into their homes and better optimize their energy generation.
"Albasolar has a longstanding history of providing quality photovoltaic equipment to installers in Europe, Latin America and North America, including Mexico and the Caribbean," said Alberto Medrano, founder and chief executive officer of Albasolar. "By offering the Enecsys Micro Inverter System, we are confident that our customers benefit from access to the most advanced micro inverter technology on the market. Additionally, not only are our customers able to take advantage of the associated ease of installation and competitive system pricing, they are able to pass on that value to their customers."
The Enecsys Micro Inverter System is designed to make incorporating solar into any home easy and affordable for both installers and homeowners. As part of the system, Enecsys offers two types of micro inverters – the Enecsys Single and Duo Micro Inverters. Unlike string or central inverters, the Enecsys Single Micro Inverter is installed on the rack behind each solar module and converts direct current to alternating current immediately at the solar module. The Enecsys Duo Micro Inverter enables installers to connect one micro inverter to every two solar modules. By offering both types of micro inverters, Enecsys supplies installers with a choice in how best to optimally accommodate complicated rooftop installations much more quickly and easily, regardless of shading, obstruction or size. Additionally, because Enecsys provides flexible cabling as part of the Enecsys Micro Inverter System, installations do not require complex high voltage DC wiring, which makes for an intrinsically safer working environment.
"Enecsys is pleased to work with such a forward-thinking global entity as Albasolar; they clearly understand the value of our products and communicate that value effectively to their customer base," said Mike Fister, chief executive officer of Enecsys. "We believe Enecsys is uniquely positioned to provide a system of micro inverter and monitoring products with unmatched reliability and performance. By working with partners, such as Albasolar, we are able to seize this opportunity and distribute the Enecsys Micro Inverter System to a wide global base of installers."
Enecsys will be exhibiting at Intersolar North America 2012. Please visit the company at its booth, #8111, located in the Moscone West Hall.
About Enecsys
Enecsys Limited is the premier supplier of smart, highly reliable grid-connected micro inverters and monitoring systems that offer an outstanding value proposition. The micro inverter converts and controls DC power generated by eachsolar module in the PV array into AC power for homes and businesses. The advantages of the Enecsys micro inverter system include: maximized energy harvest, improved safety for installers and users, increased reliability, a lifetime matching that of the solar modules, real-time performance monitoring for each solar module, and simplified PV array design and installation. Headquartered in Cambridge, UK, the company also has sales and support offices in Redwood Shores, California; Bad Homburg, Germany; and Taipei, Taiwan.
For more information, please visit : www.enecsys.com.
Featured Product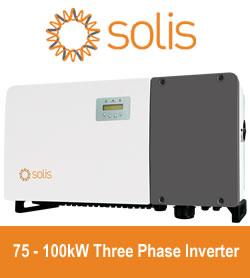 Solis75kW - 100kW series high-power string inverters are widely used in industrial and commercial rooftops. Solis's new three-phase string inverter is the first choice for industrial and commercial photovoltaics. 75-100kW three phase series string inverter have Maximum 28 strings input, support "Y" type connection in DC side. Maximum string input current 13A, support bifacial modules access.Supports anti-PID function to improve system efficiency.