The Diamond Kit will be on display in the Mitsubishi Electric Booth (#7447) at Intersolar North America, to be held in San Francisco July 10-12, 2012.
Intersolar North America 2012
CYPRESS, Calif.--Installers can save time and close more deals with Mitsubishi Electric's Diamond Kit™, a pre-configured, pre-sized PV system that can be delivered right to the job site. The Diamond Kit is designed for quick and easy installation and features Mitsubishi Electric's premier black frame MLU 255 watt solar modules, engineered for high output and reliability.
The Diamond Kit comes in four sizes: 3.0kW, 5.1kW, 7.6kW, and 10.2kW, with eight configurations, and is compatible with most roof types. The kit includes a choice of the high-yield Fronius inverter, or the SolarEdge Power Optimizer Inverter System, which offers module-level monitoring for cost efficient maintenance and up to 25% more energy due to mismatch and shading mitigation. AET's durable racking system with integrated grounding is included in all kits.
For added convenience, the Diamond Kit comes with sample permitting documents, including structural and electrical line and wiring drawings, along with complete installation and owner's manuals. Optional features include monitoring, balance-of-system electrical and mechanical components, and extended inverter warranties. Diamond Kits can be ordered for direct delivery with a single part number so installers can reduce their procurement and inventory time and costs.
The Diamond Kit will be on display in the Mitsubishi Electric Booth (#7447) at Intersolar North America, to be held in San Francisco July 10-12, 2012.
About Mitsubishi Electric & Electronics USA's Photovoltaic Division
Mitsubishi Electric is one of the world's most experienced manufacturers and providers of solar power technology. The company's eco-friendly photovoltaic systems are used throughout the world to bring clean, reliable energy to residences, businesses, power generation plants, schools, factories and more. Mitsubishi Electric photovoltaic panels are marketed by Mitsubishi Electric & Electronics USA, Inc., and sold through approved distributors and installers. To learn more visit our new website at www.MitsubishiElectricSolar.com or call 714.220.2500.
Featured Product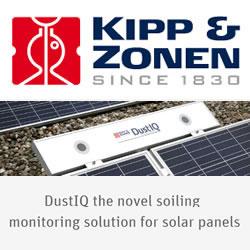 Soiling of the panel glass is one of the major problems in the rapidly expanding solar energy market, with the attendant loss of efficiency and reduction in performance ratios. Now, there's a new, simple and very cost-effective alternative. Based on Kipp & Zonen's unique Optical Soiling Measurement (OSM) technology, DustIQ can be easily added to new or existing solar arrays and integrated into plant management systems. The unit is mounted to the frame of a PV panel and does not need sunlight to operate. It continuously measures the transmission loss through glass caused by soiling, so that the reduction in light reaching the solar cells can be calculated.