EV charging stations are primarily found in the residences of EV drivers, while public charging stations are almost absent along highways in many countries.
LONDON, UK 13 July 2012 - Electric vehicle (EV) drivers suffer from the fear of being stranded, as charging facilities leave a lot to be desired, claims a new report by power experts GlobalData.

The new report* does however suggest that this fear could be mitigated by the further implementation of charging stations, which will hopefully encourage electric vehicle usage.
The convenience of simply filling a vehicle up with fuel encourages the use of Internal Combustion Engine (ICE) cars, as an electric vehicle can take five to six hours to recharge using charging stations, primarily found within the EV owner's residence for overnight use. Fast-charging stations, which can charge EVs within minutes, are scarce, but such enhanced charging infrastructure is vital to encourage the use of EVs for long journeys.
Among the barriers to EV adoption, the one which most affects consumers is the fear of running out of power due to a depleted battery. This stems from worries related to long charging processes, poor battery performances and inaccessible charging infrastructures. These factors are restricting the use of EVs on a large scale, and research also showed that vehicle drivers frequently recharged their vehicle even when they had a considerable amount of power left in their batteries due to this fear, compounding the already heavy effects of EVs on the grid.
However, concerns can be reduced by installing next generation charging stations, and expanding charging infrastructure. The forthcoming advancements in battery technology, charging stations and electric vehicles are likely to diminish range anxiety among electric vehicle drivers.
EV charging stations are primarily found in the residences of EV drivers, while public charging stations are almost absent along highways in many countries. This is keeping EV drivers from using their vehicles for long journeys, which is making a significant impact on EV penetration. In order to overcome this problem and promote the use of EVs, governments, utilities and private organizations across the globe are undertaking projects for the installation of charging infrastructure.
The EV infrastructure network in the US is expected to serve around two million EVs by 2020. Next generation charging stations represent a promising opportunity to push forward EV penetration. The Washington State Department of Transportation (WSDOT) has awarded a contract to Aerovironment to install a network of charging stations linking Washington to Oregon and Canada, with charging stations deployed at shopping malls and petrol stations able to fully charge an EV within 30 minutes. The EV charging infrastructure along the highway connecting Washington and Oregon is another important part of the upcoming West Coast Green Highway project, as the fully installed infrastructure will extend about 1,350 miles along I-5 highway, connecting three states and three countries. The AAA, a pioneer in smart grid and green technology, is also planning to deploy roadside mobile trucks endowed with charging stations in Portland, Seattle, San Francisco Bay Area, Los Angeles, Knoxville, and Tampa/St. Petersburg.
Outside of the US, a major EV infrastructure project is being undertaken by Ecotricity, who are deploying green-energy powered charging stations to help mitigate range anxiety and enhance EV adoption in Britain. The infrastructure is currently being installed at every 'Welcome Break' motorway service station, as well as in other key locations. The charging stations will receive electricity generated from wind and solar parks present across the country to fuel depleted batteries.
-ABOUT GLOBALDATA-
GlobalData is a leading global business intelligence provider offering advanced analytics to help clients make better, more informed decisions every day. Our research and analysis is based on the expert knowledge of over 700 qualified business analysts and 25,000 interviews conducted with industry insiders every year, enabling us to offer the most relevant, reliable and actionable strategic business intelligence available for a wide range of industries.
Featured Product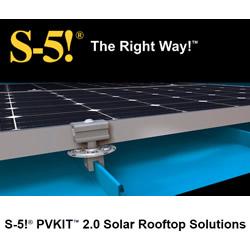 The concept of combining PV arrays with standing seam metal roofing is growing-for good reasons. Metal roofs have a life expectancy of more than 40 years. Shouldn't the mounting system last as long? With S-5! zero-penetration attachment technology and PVKIT 2.0, the solarized metal roof is the most sustainable system available -and without compromising roof warranties! PVKIT 2.0 is the also the best solution for attaching PV modules directly to any exposed fastener metal roof.