Company Expands Product Portfolio with Over 7 Megawatts of Sales of its New H-Type Inverter Across Multiple Hawaiian Utilities
BOSTON--Satcon Technology Corporation® (NASDAQ CM: SATC), a leading provider of utility-scale power conversion solutions for the renewable energy market, today introduced the PowerGate® Plus H-Type™ line, the newest addition to its Utility-Ready solution portfolio. The PowerGate Plus H-Type solutions combine the high efficiency and proven reliability of the PowerGate Plus inverter with the enhanced system intelligence and control of Satcon's EDGE Adaptive Control Architecture (ACA) ™.

Developed over the past year in order to address the demand from Hawaiian Utilities for increased inverter control, Satcon's H-Type solutions enable significant improvements in total power plant reliability and yield through more powerful system monitoring, diagnostics, and remote control functionality. Leveraging Satcon's EDGE ACA control architecture, H-Type inverters enable instant voltage stabilization, ramp rate control, frequency response, and secure the continuous operation of the PV plant in the event of external faults, achieving low voltage ride through (LVRT) and other fault ride through performance capabilities.
"As North America's leading Utilities increase the integration of solar power plants onto their grid networks, intelligent inverters become the key enablers for enhanced grid stability and control," said Michael Levi, Vice President of Worldwide Marketing and Product Management for Satcon. "Over the past year, Hawaiian Utilities have expanded inverter feature-function requirements in order to gain greater control of these distributed power plants. Leveraging our next-generation EDGE Adaptive Control Architecture, Satcon was able to rapidly address the Utilities' LVRT requirements and provide for highly flexible, controllable, and stable solar power grid integration."
To date, Satcon has sold over seven megawatts of H-Type solutions across multiple Utilities in the state of Hawaii. The smart inverters are now generally available in three power ratings of 100 kilowatts, 135 kilowatts, and 250 kilowatts with both standard as well as Tropical Environment option packages.
About Satcon
Satcon Technology Corporation® is the leading provider of utility-scale power conversion solutions for the renewable energy market, enabling the industry's most advanced reliable and proven clean energy alternatives. For over 27 years, Satcon has designed and delivered the next generation of efficient energy systems for solar photovoltaic, stationary fuel cells, and energy storage systems. To learn more about Satcon, please visit www.Satcon.com.
Featured Product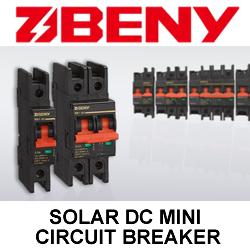 The BB1-63 modular miniature circuit-breakers can be used in solar DC circuits up to 1200 VDC (4-poles execution). Application in solar DC circuits, battery energy storage systems and UPS. Arc flash barrier design keeps solar equipment more safe and reliable. For DC circuit over-current protection.