· Recognized in the category "CSP Technology and Supplier"----- · Advanced CSP receivers from SCHOTT Solar offer higher efficiency and long-term stability
July 16, 2012 (Mainz, Germany & Las Vegas, NV) – SCHOTT Solar was honored for the second year in a row in the United States by winning the "CSP Technology and Supplier Award." SCHOTT Solar CSP accepted this honor at the annual U.S. conference of CSP Today in Las Vegas at the end of June. The award confirms that concentrating solar thermal receivers from SCHOTT Solar play a key role in increasing the efficiency of modern solar power plants. Furthermore, they contribute to cost reductions and the long-term success of Concentrated Solar Power (CSP) plant technology thanks to their outstanding design. SCHOTT Solar CSP's further development and improvement of the SCHOTT PTR® 70 receivers continue to set new standards in the area of efficiency and long-term stability.

"We are delighted at being voted CSP Technology Supplier of the Year; this honor clearly underscores our high standard for quality at SCHOTT Solar. In addition, this honor once again confirms that the market views us as an innovative force in the area of receiver technology," commented Christoph Fark, Managing Director of SCHOTT Solar CSP.
The receiver – the heart of a solar power plant
Vacuum-insulated receivers in CSP power plants convert the concentrated rays of the sun into heat that is used initially to produce steam and then to generate electricity inside a steam turbine. The question of how much solar radiation the receivers are able to convert into heat plays a key role in the efficiency of these systems. Thanks to a new coating, SCHOTT Solar has now managed to increase the degree of absorption to over 95.5 percent. At the same time, thermal radiation has been reduced to less than 9.5 percent. A further increase in absorption capacity was achieved by designing the ends of the receivers in a new way and expanding the active surface to 96.7 percent of the entire length, but also by using optional new reflectors on the ends of the receivers.
Besides performance, the durability of receivers is also of immense importance to the economic success of a solar thermal power plant. SCHOTT Solar developed noble gas capsules that can be integrated into the vacuum area of the receivers and be opened at any time later on during operation of the power plant as a way of reducing heat losses even after many years of operation. The noble gas helps keep heat losses permanently low and allows for the receivers to continue operating at high efficiency levels.
"Solar power can be generated even more economically in the future thanks to our new generation of receivers. By again contributing to lower costs of this core technology, we will also be able to ensure the continued growth of this important industry. Today, CSP power plants already offer a genuine alternative to conventional fossil fuel-based power plants," Fark explains.
CSP technology will also be used in the "Power From the Desert" project Desertec. The goal of the industrial initiative Dii is to cover around 20 percent of Europe's electrical power needs by the year 2050 by relying on imports from North Africa. This would enable Europe to lower its electricity costs by about 40 percent. The very first wind and solar power plants with 250 megawatts of power in total are scheduled to be built soon in Morocco and should begin supplying power starting in 2014.
About the CSP Today Award
CSP Today is an independent company that provides the CSP industry with a platform for exchanging information on technologies and new market developments. CSP Today has been awarding prizes and recognizing special achievements since 2009.
Further information is available under www.schottsolar.de
Featured Product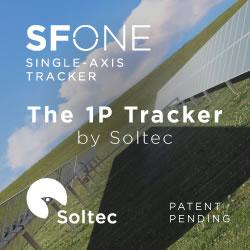 SFOne is the 1P single-axis tracker by Soltec. This tracker combines the mechanical simplicity with the extraordinary expertise of Soltec for more than 18 years. Specially designed for larger 72 an 78 cell modules, this tracker is self-powered thanks to its dedicated module, which results into a lower cost-operational power supply. The SFOne has a 5% less piles than standard competitor, what reduces a 75% the labor time.