Manufacturer of Photovoltaic Panels relies on FLEXcon's Adhesive Solutions to Develop Golf Cart Conversion Kits
SPENCER, Mass.--FLEXcon, an innovator in adhesive coating and laminating, today announced that it has been tapped by Unconquered Sun Solar Technologies, a manufacturer of premium lightweight photovoltaic panels, to provide essential materials for its Solar Golf Cart Conversion Kits. FLEXcon is providing the backsheet for the solar panels, as well as the custom foam tape used in the manufacture and installation of the solar panels onto the golf carts. Unconquered Sun is providing golf cart distributors and manufacturers with an energy efficient alternative that increases cart run time by 30 percent and increases battery life by up to 50 percent.

"Golf cart distributors and manufacturers need to consider offering golf cart options that help reduce energy usage and operating costs"
FLEXcon developed a custom double-coated black foam tape that is used to adhere the golf cart frame to the glass module, and adhere the black skirt around the module. Unconquered Sun required that the tape last for 25 years and be able to withstand drastic heat cycles and long-term weathering. FLEXcon delivered FLEXmount® DFPEF 32 Black V-778 200 POLY C2S, a custom tape solution that is slit to a specific size. FLEXcon also provides its FLEXcon multiGUARD® KPE W12 photovoltaic backsheet for the panels.
"Golf cart distributors and manufacturers need to consider offering golf cart options that help reduce energy usage and operating costs," said Sean Moore, CEO of Unconquered Sun Solar Technologies. "Having worked with FLEXcon before, we knew they would be the perfect partner to help us bring this exciting product to market. FLEXcon's ability to rapidly develop custom solutions allowed us to deliver golf cart conversion kits, ahead of our competitors."
The kit converts used and new golf carts into energy efficient vehicles and comes with a gauge to show distance travelled, how many hours of battery are left and how much energy is being generated. Soon Unconquered Sun will provide a GPS application, so all carts in the fleet can be monitored by the GPS system.
"Unconquered Sun is known as a market innovator that has been able to identify and develop relevant applications for its photovoltaic panels," said Michelle Ostiguy, Director, Photovoltaic & Barrier, FLEXcon. "We immediately jumped at the chance to work with Unconquered Sun to develop custom solutions, to make the Solar Golf Cart Conversion Kits a reality. It today's economy, the vendors that can develop new, innovative ways to use their solar panels are most likely to succeed in this competitive marketplace."
About FLEXcon
FLEXcon is an innovator in adhesive coating, laminating and finishing of durable materials used in graphics applications, electronics and new products. Through a culture of curiosity, flexibility and a drive for excellence, FLEXcon is the trusted partner to a wide range of companies from printers and fabricators to engineers and designers developing products for existing and emerging markets. Headquartered in Spencer, Mass. the company has operations throughout North America and Europe with distribution worldwide. For more information, visit www.FLEXcon.com
Featured Product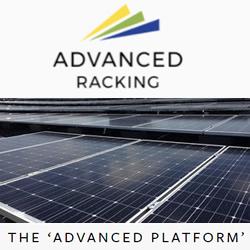 The 'Advanced Platform' simplifies the installation process by using universal mounting hardware that works perfectly across all roof types. Smart roof connection kits then connect to the specific roof's surface. The Advanced Platform is versatile: Our common design can be your single solution for all roof types.