Intellectual Property Theft Growing in Competitive Climate of Photovoltaics
SHANGHAI, July 19, 2012 –DuPont Electronics & Communications Managing Director for Greater China, Walt Cheng, was a featured speaker today at the Solarbuzz China (PV) Conference in Shanghai. In addressing the importance of materials supply in PV manufacturing, Cheng emphasized the critical role innovation plays in advancing the solar energy industry, and the growing significance of intellectual property protection in today's increasingly competitive PV market.

"In the solar industry today, cost pressures are intensifying throughout the value chain, and companies are looking harder than ever to gain competitive advantage," said Cheng. "Technological innovation remains the lifeblood of this industry and the key means of achieving lower levelized cost of energy. Intellectual Property (IP) theft is widespread and the issue seems to be growing in the current climate of this industry. IP theft, left unchecked, has the potential to threaten the PV industry broadly at a critical time in its development. Everyone at every level in the industry benefits from vigorous competition that spurs innovation, bringing cutting-edge products to the global market. IP theft diminishes competition and reduces innovation. If there is no longer an incentive for companies to deliver new innovations, the progress we've made together to accelerate the growth of solar energy can stall."
DuPont has succeeded as the leading materials supplier to the photovoltaic industry (ex. silicon) through bringing innovations including DuPont™ Solamet® photovoltaic metallizations that have almost doubled the efficiency of solar modules over the last dozen years. DuPont spent $2 billion last year on R&D, a significant portion of which is focused on reducing global dependence on fossil fuels through advanced materials and technologies that improve the efficiency, lifetime and cost-competitiveness of solar energy.
"As DuPont continues to develop new technology, we need to ensure it is protected," said Cheng. "We do not ignore infringement and will pursue aggressively other points in the PV supply chain where IP infringement of our PV metallization pastes exists."
Cheng indicated this set of actions continues in the manner of previous DuPont actions involving IP protection in China and other countries in the world. The company recently filed two lawsuits against PV metallization paste supplier Heraeus and one against its customer SolarWorld, for infringing on DuPont patents for DuPont™ Solamet® PV metallization pastes.
Cheng asked for increased support from the industry to guard against infringement and stronger opposition to the use of "infringing" materials in the production and sale of downstream products by cell and module makers, PV system developers, installers and owners. Infringing companies expose themselves, and potentially others they do business with, to the full range of legal remedies.
"We have reached a point where we have to re-level the playing field. In a market that is fair, free and legal, we relish the opportunity to compete with the best technology providers to help solar succeed, and we look forward to your support in this critical endeavor," Cheng concluded.
DuPont™ Solamet® photovoltaic metallization pastes are part of a broad and growing portfolio of products represented by DuPont Photovoltaic Solutions (DPVS), which connects science and technology from across the company on a global scale to help support the dramatic growth in the photovoltaic industry. To learn more, please visit http://photovoltaics.dupont.com.
DuPont (NYSE: DD) has been bringing world-class science and engineering to the global marketplace in the form of innovative products, materials, and services since 1802. The company believes that by collaborating with customers, governments, NGOs, and thought leaders we can help find solutions to such global challenges as providing enough healthy food for people everywhere, decreasing dependence on fossil fuels, and protecting life and the environment. For additional information about DuPont and its commitment to inclusive innovation, please visit www.dupont.com.
Featured Product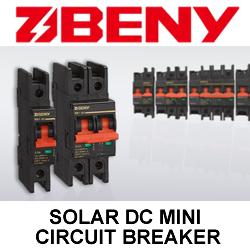 The BB1-63 modular miniature circuit-breakers can be used in solar DC circuits up to 1200 VDC (4-poles execution). Application in solar DC circuits, battery energy storage systems and UPS. Arc flash barrier design keeps solar equipment more safe and reliable. For DC circuit over-current protection.