The forum, "Navigating Today's Challenges to Reach Tomorrow's Opportunities," is the beginning of a conversation about renewable transportation
Washington, DC–July 19, 2012 – Leaders from across the country in the transportation and renewable energy sectors convened at an American Council On Renewable Energy (ACORE) forum on Tuesday in Washington to chart a course for expanding the use of renewable energy in the transportation sector.

"Because nearly 70% of all oil used in this country is used in the transportation sector, there is an immense opportunity for renewable energy to expand its share of the market and make a significant impact on our energy and economic security," said ACORE President & CEO Vice Admiral Dennis V. McGinn. "This forum, part of our Transportation Initiative, brought together a diverse group of stakeholders from across all modes of transportation and energy sources who are playing a crucial role in growing the renewable transportation market and curbing our dependence on foreign oil."
Federal Highway Administrator Victor M. Mendez, who delivered the forum's morning keynote, discussing the role that the U.S. Department of Transportation plays in a new, renewable transportation system, said, "Everything we do is designed to keep the public moving safely, grow our economy and sustain our environment."
ACORE launched its Transportation Initiative in January of 2012 to hasten America's transition to a 21st century transportation system that is sourced by renewable fuels and energy. The Initiative, which drives the transportation forums, is co-chaired by ACORE members: Baker & McKenzie, General Motors, IBM, Next Era Energy, NRG Energy & eVgo, POET, United Streetcar, and Volvo Group North America.
Tuesday's forum, entitled "Navigating Today's Challenges to Reach Tomorrow's Opportunities," was the first in a series of forums on this subject and aimed at the development of a roadmap for the role of renewable energy in the transportation infrastructure of the 21st century, highlighting the opportunities across all modes of transportation, technology, and power sources. The next event in the series will be a transportation track running at RETECH on October 17-19th, in Washington, D.C.
"With the momentum we built Tuesday," Admiral McGinn added, "we're confident that our transportation track at RETECH will bring together an even broader group that will continue the development of our roadmap for a 21st century transportation system. Today was just the beginning of the conversation."
About ACORE:
ACORE, a 501(c)(3) non-profit membership organization, is dedicated to building a secure and prosperous America with clean, renewable energy. ACORE seeks to advance renewable energy through finance, policy, technology, and market development and is concentrating its member focus in 2012 on National Defense & Security, Power Generation & Infrastructure, and Transportation. Additional information is available at www.acore.org.
Featured Product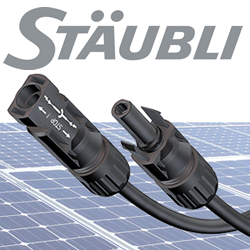 ​Stäubli Electrical Connectors are used on more than 300 GW, over 50% of the PV capacity worldwide. The MC4 family of UL and TUV listed products include connectors, in-line fuses, branch connectors, cable assembly and more.