Federal Taxpayers Receive 10% Internal Rate of Return on Solar Investment Tax Credit (ITC) in Common Solar Financing Scenarios
WASHINGTON, DC, July 19, 2012—A study published today by the US Partnership for Renewable Finance (US PREF), a program of the American Council On Renewable Energy (ACORE), finds that the solar investment tax credit (ITC), expanded in 2005 by President George W. Bush and modified as a grant program under President Barack Obama, can deliver a 10% internal rate of return to taxpayers on the government's initial investment. Titled, "Paid in Full," the study's model examines the cash flows generated by tax revenues on solar leases and power purchase agreements to show that a $10,500 tax credit for a residential system can provide a $22,882 nominal benefit to the government in those scenarios over the life of the solar asset, and a $300,000 commercial solar credit can create a $677,627 nominal benefit in a similar time period.

SolarCity®, a member of US PREF, created the models for the study based on industry data, and consulted with tax and advisory firm KPMG on the application of current income tax law and evaluation methodology for federal government incentives.
"Everyone understands that solar power leads to cleaner air and greater independence from fossil fuel," said Lyndon Rive, SolarCity's CEO. "Far fewer people realize that solar incentives can pay for themselves. Solar power has become a political football in this election year, but the investment tax credit has been one of the most beneficial, bipartisan energy policies of this or any other generation."
The ITC has encouraged a significant increase job and installation growth in the U.S. solar industry. Approximately 90% of the nearly 5,000 megawatts of solar generation capacity in the U.S. has been installed since the ITC was expanded in 2005, according to data from GTM Research. The June 2012 GTM Research/SEIA U.S. Solar Market Insight report also indicated that U.S. solar installations in the first quarter of 2012 increased 85% over the same period in the prior year.
"The ITC has been very effective in stimulating private sector investment in solar energy, enhancing our nation's energy and economic security by diversifying our energy mix, and improving our quality of life through a cleaner environment," said ACORE CEO Dennis V. McGinn. He added, "As SolarCity demonstrates in the model, it also pays for itself. This policy is both effective and fiscally prudent."
As "Paid in Full" discusses, the growth of the solar industry also provides a means to reduce harmful emissions that can be hazardous to the environment and to human health. Solar power adoption is helping to offset polluting power sources and is delivering a financial return to taxpayers at the same time.
"Paid in Full" is available for download on the US PREF website: http://www.uspref.org/index.php/white-papers.
ABOUT US PREF
US PREF is a coalition of senior level financiers who invest in all sectors of the energy industry, including renewable energy. Members educate the public sector to assure renewable energy finance legislation impacts the market as efficiently and effectively as possible, with the goal of helping to unlock capital flows to renewable energy projects in the United States. US PREF is a program of the American Council On Renewable Energy (ACORE).
ABOUT ACORE
ACORE, a 501(c)(3) non-profit membership organization, is dedicated to building a secure and prosperous America with clean, renewable energy. ACORE seeks to advance renewable energy through finance, policy, technology, and market development and is concentrating its member focus in 2012 on National Defense & Security, Power Generation & Infrastructure, and Transportation. Additional information is available at www.acore.org.
Featured Product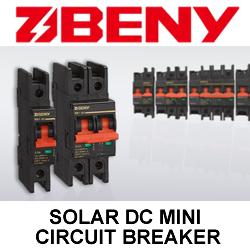 The BB1-63 modular miniature circuit-breakers can be used in solar DC circuits up to 1200 VDC (4-poles execution). Application in solar DC circuits, battery energy storage systems and UPS. Arc flash barrier design keeps solar equipment more safe and reliable. For DC circuit over-current protection.