OMG Roofing Products Introduces PowerGrip for Solar Panel Attachment -- Fast, Simple, Watertight Security –
AGAWAM, Mass., July, 2012 – OMG Roofing Products has introduced PowerGrip, a roof mount system designed to secure rooftop solar racks and other equipment to thermoplastic (TPO and PVC) roofing membranes.

PowerGrip provides a secure connection directly to the roof deck or structural members. Once secured and heat welded in place, properly installed PowerGrips virtually eliminate rack movement and remain watertight.
Factory fabricated OMG PowerGrip assemblies are easy-to-install and can be made with any TPO or PVC membrane on the market, for 100% compatibility with the specific roofing system. Moreover, PowerGrips are compatible with most types of solar racking systems currently on the market and do not require any field fabrication or assembly. In addition, since they eliminate the need to cut open the roof down to the deck, the system saves time and labor. PowerGrips may also be used with ballasted racking systems potentially reducing the amount of ballast required, so there's less weight on the roof.
Each PowerGrip features a nine-inch wide diameter welding flange and a ½-in. tall weather resistant aluminum perch. An exposed 1-in. tall x 3/8-in. diameter stainless steel bolt provides a secure connection point for solar racks and other roof-top equipment.
OMG PowerGrip is fully compatible with all TPO and PVC membranes and can be used on mechanically attached, fully adhered and ballasted roofing systems.
In addition to solar racks and mounts, OMG PowerGrip can be used in many other roof mounted applications, including: pipe supports and hangers, step crossovers, electrical conduit and raceways, TV dishes and small antenna, HVAC applications as well as sign and wind-screen supports, among others.
Contractors should always check with the roof system manufacturer for installation criteria and written acceptance of the intended application prior to installation. Failure to do so could void the roofing warranty. For structural applications, always consult a structural engineer for installation criteria prior to application.
PowerGrips are packaged 20 per carton and available through OMG's national distribution network. For additional information, contact your local OMG sales representative, call OMG customer service (800/633-3800) or visit www.olyfast.com.
# # #
Featured Product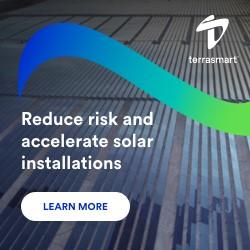 We push the limits in renewable energy, focusing on innovation to drive progress. Pioneering new solutions and ground-breaking technology, and smarter ways of working to make progress for our clients and the industry.