Finalized deal creates hundreds of jobs and will serve as industry standard for sustainable communities
July 23, 2012 ATLANTA--OCI Solar Power signed a deal with CPS Energy today in San Antonio, Texas, to develop, own and operate the largest municipal utility solar project in the country. The groundbreaking sustainable energy development project will produce more than 400 megawatts of power through a consortium of partners brought together by OCI Solar Power for the landmark deal. The project will also create more than 800 long-term jobs and drive an estimated $700 million in economic impact each year. OCI Solar Power is locating its U.S. headquarters in San Antonio.

As part of its plan, OCI Solar Power will develop several solar facilities that will ultimately power more than 70,000 homes. The company, which announced a new president last week, is surging toward a new leadership position in the solar industry. With more than 40 projects ranging from 3 to 400 megawatts across the U.S. and Canada, OCI Solar Power is creating new standards for partnerships and community development.
"OCI Solar Power is breaking new ground for sustainable energy in the U.S.," said Tony Dorazio, president of OCI Solar Power. "This project will not only serve as a public-private partnership model for communities around the country but also a blueprint for building a new energy development hub. As part of our commitment to this vision and to the San Antonio community, we will also drive investments in education, research and development and the new innovations necessary to sustainably impact the economy and landscape for years to come."
The first phase of the project which includes 50 megawatts of solar power will be completed by mid 2013. Plans are for the remaining megawatts to be built through 2016. OCI Solar Power is also planning to create an Engineering and Operations Center to fuel ongoing innovations in sustainable and efficient solar energy production.
"Today is an exciting day for OCI Solar Power as we expand our energy portfolio with CPS and San Antonio," said Kirk Milling, president and CEO of OCI Enterprises. "The consortium of global solar industry leaders we have assembled will change the way the U.S. is able to access the latest high-performance technologies and processes in solar energy today. We look forward to working with our partners to serve CPS Energy's customers and the broader region."
OCI Solar Power LLC is an emerging leader in the solar power industry, providing innovation and development for utility scale solar power plants in communities throughout the U.S. and Canada. OCI Solar Power works with local officials, community organizations and leading environmental and engineering firms to ensure that each project is suitable for the community and built in an environmentally conscious manner. OCI Solar Power is majority-owned by OCI Enterprises, Inc. which is the North American subsidiary of OCI Company Ltd, headquartered in Seoul, Korea. For more information, please visit www.ocisolarpower.com.
Featured Product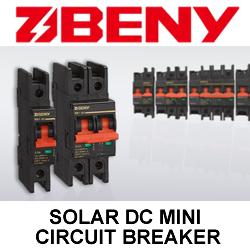 The BB1-63 modular miniature circuit-breakers can be used in solar DC circuits up to 1200 VDC (4-poles execution). Application in solar DC circuits, battery energy storage systems and UPS. Arc flash barrier design keeps solar equipment more safe and reliable. For DC circuit over-current protection.