On June 13, 2012, SGS entered into a contractual agreement with Atlas Material Testing Technology, allowing for the expansion of the Atlas 25+ photovoltaic (PV) module durability test program.
On June 13, 2012, SGS, the world's leading inspection, verification, testing and certification company, entered into an alliance with Atlas Material Testing Technology, a global leader in accelerated weathering instruments and weathering testing services, allowing for the expansion of the Atlas 25+ photovoltaic (PV) module durability test program.

SGS to Expand Atlas 25+
Since 2009 the Atlas 25+ test program has been applied to help manufacturers determine the long-term durability of photovoltaic modules. Atlas 25+ complements short-term IEC qualification tests with long-term durability and reliability assessment to support warranty and performance claims, combining state-of-the-art accelerated instrument and outdoor exposure testing. Furthermore, consisting of a comprehensive battery of accelerated tests, the original Atlas 25+ program integrates laboratory and outdoor environmental exposures to focus on the long-term product "wear-out" period that can result in declining module performance or complete module failure.
Atlas / SGS Collaboration
With the Atlas / SGS collaboration, the standard Atlas 25+ exposure and testing procedure will be enhanced with a six-month streamlined "basic" program offering faster results and a twelve-month wider-ranged "premium" program to include additional climate factors and performance measurements. Moreover, SGS clients will be able to access Atlas 25+ singularly or as an optional addition to the larger SGS PV performance tested certification which includes options for corrosive gas (e.g. NH3), salt mist, fire and potential-induced-degradation (PID) resistance to name a few. Modules passing these tests along with Atlas 25+ will receive SGS-PV performance tested ratings.
SGS to Enhance Atlas 25+ PV Module Durability Certification
Since SGS is accredited as a National Certification Body (NCB) and is one of only five German Certification Body testing laboratories (CBTL) within the IECEE certification scheme for photovoltaics, SGS is permitted to issue internationally recognized CB testing reports and certificates. With this partnership, Atlas may offer the three versions of Atlas 25+ testing programs (basic, standard, premium) with international certification via SGS involvement.
Business Outlook
Rick Weiler, Division Vice President and Business Unit Manager Atlas Material Testing Technology, said: "Atlas is extremely pleased to partner with a global leader in inspection, verification, testing and certification like SGS. This alliance helps our customers obtain, from a single source, both our recognized Atlas 25+ PV durability testing and certification of the test results from SGS. This combination provides manufacturers with information critical to product development while supporting their warranty and competitive sales positions. The entire PV industry can benefit from our partnership and we look forward to offering additional joint solutions with SGS."
According to Jörn Brembach, Business Manager Photovotaics at SGS: "We are glad to cooperate with Atlas, the leading experts in material and product weathering. Our new partnership addresses the most urgent question in the solar industry: How durable are the products? We go beyond the technical aspects of type approval and design verification of materials and components. Our testing results also have significant financial implications, affect investment decisions and give answers to the issues of eligibility and bankability."
SGS is proud to welcome Atlas Material Testing Technology to its distinguished list of international partners.
For further information, please contact:
SGS Renewable Energy
Ernst Bauer
Global Project Manager
Photovoltaic
Hofmannstrasse 50
D - 81379 München
t: +49 (0) 89 78 74 75 - 321
f: +49 (0) 89 12504068-562
E-mail: industrial.pr@sgs.com
Website: www.sgs.com/energy
SGS is the world's leading inspection, verification, testing and certification company. SGS is recognized as the global benchmark for quality and integrity. With more than 70,000 employees, SGS operates a network of over 1,350 offices and laboratories around the world.
Featured Product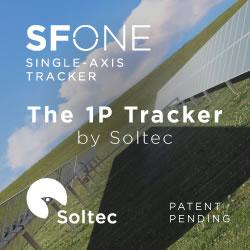 SFOne is the 1P single-axis tracker by Soltec. This tracker combines the mechanical simplicity with the extraordinary expertise of Soltec for more than 18 years. Specially designed for larger 72 an 78 cell modules, this tracker is self-powered thanks to its dedicated module, which results into a lower cost-operational power supply. The SFOne has a 5% less piles than standard competitor, what reduces a 75% the labor time.