Methanol system offering expands Ballard's markets for extended run time, clean fuel cell power solutions
For Immediate Release – July 25, 2012

VANCOUVER, CANADA– Ballard Power Systems (NASDAQ: BLDP)(TSX: BLD) today announced signing of an agreement to acquire key assets from IdaTech, including the Company's fuel cell product lines for backup power applications, distributor and customer relationships, as well as a license to intellectual property. Payment for the acquisition of these assets will be made through the issuance of $7.7 million of Ballard common shares, at a price of US$1.08 per share. The shares will subsequently be transferred to IdaTech's principal funder, Investec, a South African specialist bank and asset management company (www.investec.com). The transaction is expected to close on or about July 31, subject to TSX approval and other closing conditions.
Ballard has worked closely with IdaTech over the past several years, supplying fuel cell stacks for its systems, as IdaTech has developed markets, built key customer relationships and proven the commercial robustness of its direct hydrogen and methanol fuelled products. IdaTech's methanol fuelled product line has proven its strong value proposition to customers such as AXIS in Indonesia, Telcel in Mexico and Vodacom in South Africa. These markets, which require frequent and extended run time backup power, have seen a strong preference by IdaTech's customers for deployments of methanol fuel cell systems to replace traditional diesel generators.
John Sheridan, Ballard President and CEO said, "This transaction gives Ballard key benefits immediately, both financial and strategic. Financially, the transaction is expected to be accretive for Ballard's revenue, EBITDA and cash flow in 2012 and beyond. Strategically, it provides Ballard with additional product capabilities with methanol fuelled systems and key customer relationships in leading markets for fuel cell commercialization, such as Southeast Asia, the Caribbean and Latin America as well as South Africa."
South Africa is a market of special interest for fuel cell commercialization. Ballard has already delivered fuel cell systems to Anglo American Platinum Limited for demonstration in large scale backup power and mining locomotive applications. In addition, Ballard is working with Anglo American on development of a fuel cell home generator. And, following this asset purchase, Ballard will be working with existing IdaTech customers in South Africa, with whom more than 150 systems have already been deployed.
Investec has agreed to hold the majority of the Ballard shares issued under the transaction for a minimum period of 12 months, demonstrating its continuing support for the commercialization of fuel cells, with particular interest in South Africa, where Investec is a high profile and leading financial institution with a commitment to transformation initiatives.
Stephen Koseff, Investec Group CEO said, "Sustainability for Investec is about endurance and the interdependence of the three key areas of profit, people and planet. This transaction clearly aligns with that philosophy. And, we are excited to be directly involved with a market leader in Ballard, the fuel cell company best positioned to work with existing customers and to expand the base of installed fuel cell systems."
The common shares to be issued in the proposed transaction have not been registered under the Securities Act, or applicable state securities laws, and accordingly may not be offered or sold in the United States except pursuant to an effective registration statement or an applicable exemption from the registration requirements of the Securities Act and such applicable state securities laws.
About Ballard Power Systems
Ballard Power Systems (TSX: BLD) (NASDAQ: BLDP) provides clean energy fuel cell products enabling optimized power systems for a range of applications. Products deliver incomparable performance, durability and versatility. To learn more about Ballard, please visit www.ballard.com.
This release contains forward-looking statements concerning the financial and strategic benefits of the transaction. These forward-looking statements reflect Ballard's current expectations as contemplated under section 27A of the Securities Act of 1933, as amended, and Section 21E of the Securities Exchange Act of 1934, as amended. Any such forward-looking statements are based on Ballard's assumptions relating to its financial forecasts and expectations regarding its product development efforts, manufacturing capacity, and market demand and include the Company's expectations regarding the potential benefits of the proposed transaction and the timing and success of future product development efforts.
These statements involve risks and uncertainties that may cause Ballard's actual results to be materially different, including general economic and regulatory changes, detrimental reliance on third parties, successfully achieving our business plans and achieving and sustaining profitability. For a detailed discussion of these and other risk factors that could affect Ballard's future performance, please refer to Ballard's most recent Annual Information Form. Readers should not place undue reliance on Ballard's forward-looking statements and Ballard assumes no obligation to update or release any revisions to these forward looking statements, other than as required under applicable legislation.
Contact: Guy McAree +1.604.412.7919, investors@ballard.com or media@ballard.com
Featured Product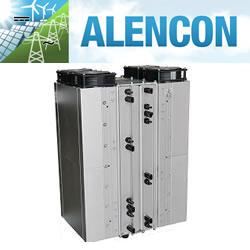 Alencon Systems is the premier manufacturer of high power, high voltage DC:DC optimizers for alternative energy applications including solar, battery energy storage, Microgrids, Fuel Cells and Electric Vehicle charging. Alencon's DC:DC converter offerings include the SPOT, BOSS and CUBE series DC:DC converters. The SPOT is a modular, uni-directional DC:DC solution ideal for solar applications. The BOSS is a modular, bi-directional unit for use with battery energy storage. The CUBE is a monolithic DC:DC converter which is available in both uni-directional and bi-directional modalities. Pictured above, is the Alencon SPOT.