Solar electric system features modules optimized by Tigo Energy
SHARON, VT – Upsolar, a leading international provider of solar PV modules, today announced the completion of its largest project in the United States to date: a 2.2 MW solar power plant in Sharon, VT. Constructed by New England-based Talmage Solar Engineering, Inc., the system incorporates Tigo Energy's Module Maximizer™ technology to feed optimized renewable energy directly into the local grid.

By integrating Tigo Energy's power optimizers into its modules, Upsolar boosts power output across the entire system. Tigo also provides digital monitoring services at the module level to ensure the system is operating to its fullest potential at any given moment.
"In collaborating with Tigo Energy, we've again demonstrated our unwavering commitment to expanding the U.S. solar market through product variety and technological innovation," said Troy Dalbey, Managing Director of Upsolar America. "We look forward to demonstrating the performance-enhancing capabilities of our smart module solution with this system, as well as upcoming projects across the country."
The Sharon project is composed of 9,562 UP-M230 polycrystalline modules, all backed by the Upsolar's Reinforced Warranty. Featuring trigger points at years 3, 7, 12, 16, 20 and 25, the company's Reinforced Warranty ensures its modules will maintain high levels of performance over the long term.
"Upsolar's reliable modules paired with Tigo Energy's power optimizers offered us the ideal balance of quality, performance and affordability required to bring this project to life," said Kale Inoue, Chief Financial Officer of Talmage Solar Engineering, Inc. "The combined advantages of the Upsolar's tier-1 specs and Tigo Energy's innovative technology will ensure that this system will outperform a traditional array at a lower cost per kilowatt hour."
Representatives from Upsolar, Talmage Solar Engineering and Tigo Energy will be on hand for a project commissioning ceremony on August 11, 2012 to be held at 301 Commerce Park Drive, Sharon, VT.
Like Upsolar on Facebook: http://www.facebook.com/Upsolar
Follow Upsolar on Twitter: @UpsolarGroup
Connect with Upsolar on LinkedIn: http://www.linkedin.com/company/upsolar-group- co-ltd
About Upsolar
Upsolar is a leading international solar module developer and producer, offering the solar industry's best quality/price ratio in the global PV market. With vertically integrated, diversified manufacturing platforms, as well as an R&D-supported quality control management system, Upsolar produces high quality, reliable solar modules backed by a world-class warranty, at competitive prices. Headquartered in Shanghai, Upsolar has offices throughout Asia, Europe and North America to support an international customer-base, providing on-site technical support, customer service and product development teams. For more information, visit www.upsolar.com.
About Tigo Energy
Tigo Energy designs the #1 PV solar optimizer utilizing patented impedance matching technology to allow more modules on any roof, uneven string lengths and different orientations. Installers and system owners achieve the highest ROI by increasing energy production and maximum system up-time for new systems and retrofits. Headquartered in the Silicon Valley, Tigo Energy is an innovative force partnering with module, inverter and combiner box manufacturers to embed these features and monitor arcing, fire and safety hazards. Tigo Energy delivers the most effective string monitoring, theft prevention and fleet management. For more information, visit: www.tigoenergy.com.
About Talmage Solar Engineering, Inc.
Founded in 1975 Talmage Solar Engineering, Inc. has been a leader in PV system Engineering, Procurement and Construction for over 3 decades. TSE's engineering and construction practices focus on long term value and lower cost per kilowatt hour. Operating out of Kennebunkport, Maine, Talmage Solar Engineering, Inc. has complete over 2000 installations and is positioned to continue deliver turnkey power systems to New England at the most competitive price. Talmage has been a key partner in several module and inverter manufacturer's integration and market penetration. For more information, visit: www.talmagesolar.com
Media Contacts
Lucy Chen
PR and Communication Specialist, Upsolar
+33 1 83 62 02 05
lucy.chen@upsolar.com
Kale Inoue
Chief Financial Officer
Talmage Solar Engineering, Inc.
(510) 387-7401
kale.inoue@gmail.com
Kimberly Setliff
Antenna Group for Upsolar
+1 415-977-1942
upsolar@antennagroup.com
Lisette Rauwendaal
PR Manager, Tigo Energy
+1 408-402-0802, ext. 433
lisette.r@tigoenergy.com
Featured Product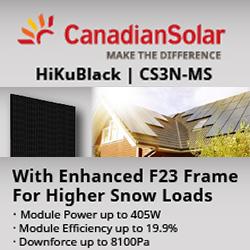 Aesthetic appearance for residential systems: With black backsheet & black frame, Power range 380 ~ 405 W, Low power loss in cell connection. Enhanced reliability: · Low temperature coefficient (Pmax): -0.34 % / °C, LID LeTID less than 2.0%, Lower hot spot temperature, Better shading tolerance.