Announced today an alliance to execute Wave Power Technology in El Salvador and California
TEL AVIV, Israel, July 27, 2012 -- Israel's SDE Wave Power Plants company and El Salvador's El Esplendor Development Corp announced today an alliance to execute Wave Power Technology in El Salvador and California.

SDE is a world leader in the planning, building and marketing of power stations that produce power from sea waves.
SDE was recently selected by a team of international scientists in PESWIKI website, an extension of Wikipedia, as number one in the world in Sea Wave Energy Technologies, and was ranked among the Top 100 Clean Energy Technologies.
The company's methods consist of using sea wave motion to generate hydraulic pressure, which is then transformed into electricity. The system takes advantage of the wave's speed, height, depth, rise and fall, and the flow beneath the approaching wave, thus producing energy. SDE's system produces clean energy without detrimental effects on the environment.
SDE CEO Mr. Shmuel Ovadia will start by transferring the knowhow, knowledge and technology in Israel to the CEO of El Esplendor, Mr. Raul Cornejo.
Mr. Ovadia will then map specific places along the Salvadoran and Californian coastlines to build Wave Power Plants.
This initial stage of the alliance includes design and construction of two Wave Power Plants in El Salvador:
The first is a 1 MW power plant to supply energy to a high-end surfers' resort in development, located next to Punta Mango, a surf wave attracting surfers from North & South America.
The second one is a 10 MW commercial plant to supply energy to El Salvador's tourist town of 'La Libertad.'
SDE's aim is to help convert developing countries into 100% integrated clean energy industries and support energy conservation, efficiency and renewable energy programs. In addition, SDE helps developing countries fund the joint projects by addressing various financial agencies, including the World Bank and the United Nations. In recent years, various international organizations are providing more than 40% of funding to renewable energy producers.
PROESA, the Government Investment Promotion Agency of El Salvador, is actively facilitating this Israeli-Salvadoran initiative amongst government-related institutions like the National Hydroelectric Power Corporation (CEL), Inversiones Energeticas (INE) and programs fostering joint ventures between government and the private sector.
El Esplendor was created by entrepreneur Raul Cornejo Giolitti to serve as a vehicle for the Salvadoran diaspora to invest in technology ventures in Central America and California, which include Wave Power Plants using Israeli technology, adventure tourism developments, communications and finance for members of the Central American diaspora living in the USA and Europe. http://www.sde.co.il/
For more information:Mr. Shmuel Ovadia, Managing DirectorTel: +972 (50) 5211683+972 (50) 5211683Fax: +972 (0) 3-6319239Email: abe@shani.netWebsite: http://www.sde-energy.com/
Featured Product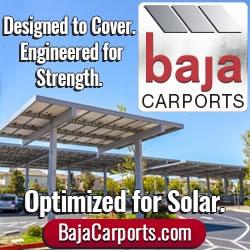 Baja Carports offers an extensive solar support system product line customized to customers' site specifications by in-house engineers, meeting their parking lot coverage, plus optimal PV production needs. Baja's Full Cantilever Tee is often paired with its Semi and Full Cantilever carports to meet live/loads up to 60psf and wind speeds to 160mph. All Baja products are pre-fabricated, bolted connections, pre-galvanized structural steel for fast on-site installation and project aesthetic requirements."