California Hydronics Corporation to Represent Apricus Products in Northern California & Northwestern Nevada
July 27, 2012 – Apricus, a leading designer and manufacturer of solar hot water and hydronic heating products, is pleased to announce California Hydronics Corporation (CHC) as their Manufacturer's Representatives in Northern California and Northwestern Nevada.

CHC has been servicing contractor, engineering and wholesaler customers since 1957 in this territory. †The team has extensive plumbing and hydronic systems expertise which includes a number of professionals with experience in solar thermal sales, design and installation dating back to 1980.† They also operate FlowTherm systems, a UL packaged systems manufacturer for custom commercial project needs.† With 78 employees and 4 offices in the territory, CHC together with Apricus will provide customers with a valuable business team for solar thermal projects. ††
"We are excited and proud to add Apricus to our linecard of quality energy efficient products," said Dave Lockhart, Vice President of Sales and Marketing at CHC. "CHC is well poised in the market and ready to provide design and engineering assistance, job site visits and quality customer service for Apricus customers that we are already well known for out west." ††
About California Hydronics Corp:
California Hydronics Corp. was founded in 1957 by Thomas E. Brewer, John W. Littleton, and Milton P. McLeod to serve the mechanical trades industry as a Manufacturers' Representative dealing primarily in hydronic heating equipment, steam components, heat transfer equipment, and plumbing accessories. The original founders of the company have all since retired from active service, but their basic mission remains intact. Their goal has been, and still remains, to obtain favorable specifications for commercial projects and to provide the highest level of customer service and satisfaction. Since the beginning, the company has consistently grown and found it necessary to move to larger facilities on three occasions. California Hydronics has resided in their present facility in Hayward, California since 1992. At the present time, they occupy a 45,000 square foot building that includes a 25,000 square foot warehouse and a 20,000 square foot manufacturing and fabrication facility. For more information visit www.chchydronics.com.
About Apricus:
Apricus is a leading designer and manufacturer of solar hot water and hydronic heating products for residential and commercial use. With a rapidly growing distribution network throughout North America, offices in the US, Europe, and Australia, and representation in over 30 countries; their range of renewable energy products provide simple and effective solutions for families and businesses concerned about the effects of climate change and rising energy costs.
Featured Product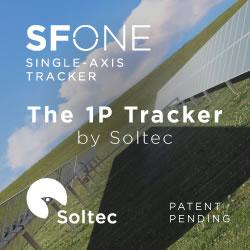 Soltec manufactures and supplies solar trackers designed and proven for extreme climate conditions, which is an ideal solution for any region's environment. Soltec's trackers are self-powered, requiring no additional PV module or grid-powered connection. Bifacial modules collect energy on both the front and rear sides, capturing reflected irradiance from the ground surface under and around the tracker and from other modules. Depending on site conditions, bifacial yield-gain can reach +30 percent.