Driven by commercial and utility installations, independent research firm ClearSky Advisors forecasts the 2012 Ontario PV market to grow by 31% compared to 2011 according to their updated market forecast.
July 30, 2012 The forecast growth is less than previously expected and as a consequence the research firm is downgrading its installation forecast from December 2011 by more than 150MW to a total of 368MW (dc) for 2012. There are several factors that are contributing to the slower growth in the market, but the lack of new contracts in the microFIT segment due to the FIT review will lead to a contraction of the microFIT segment in 2012.

Due to the on-going delays in the province's Renewable Energy Approval (REA) process, many utility-scale projects that originally planned to enter commercial operation by spring 2012 are still stuck in the approval process. However, Q2 of 2012 has seen the rate of Renewable Energy Approvals gain pace, something that will positively impact market activity in 2H2012 and 2013.
"A positive trend for 2012 has been the increasing momentum in the commercial rooftop market," says Justin Malecki, Analyst at ClearSky Advisors. "Compared to previous years, the promise held by the commercial market is starting to pay off for developers and is offering equipment manufacturers some relief given the other trends affecting the Ontario market."
Study highlights:
1) Short-Term: Expect a wave of utility-scale contracts to reach commercial operation by the end of 2012. The province will begin procurement of new microFIT and commercial contracts before the end of the year.
2) Mid-Term: With FIT2.0 contracts for commercial and microFIT segments entering the market, ClearSky Advisors expects 2013 and 2014 to be peak years in the Ontario PV market.
3) Supply: 2012 has seen a growth of bankable supply of modules in Ontario, providing ample choice for utility-scale developers.
ClearSky Advisors' study covers supply and demand in the Ontario PV market for the period 2012 through 2018, including market forecast scenarios, supply capacity and pricing, market volume, and value.
About ClearSky Advisors:
ClearSky Advisors is a research and advisory firm focused on renewable energy that provides data, insight and advice for PV markets in Canada, the U.S. and Latin America. Through its continuous research activities, ClearSky Advisors serves executives within a wide range of stakeholder groups including government, industry, and finance. For more information, visit:
www.clearskyadvisors.com
Featured Product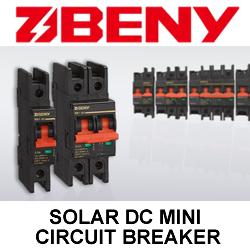 The BB1-63 modular miniature circuit-breakers can be used in solar DC circuits up to 1200 VDC (4-poles execution). Application in solar DC circuits, battery energy storage systems and UPS. Arc flash barrier design keeps solar equipment more safe and reliable. For DC circuit over-current protection.