Investment in Solar Power Adds Thousands of Contract Construction Jobs
SAN DIEGO, Calif. – July 30, 2012 - Walmart's College Avenue store in San Diego was today unveiled as the 100th California Walmart store now using rooftop solar panels to generate power, contributing to the company's broader goal of being supplied 100 percent by renewable energy. Walmart's investment in solar power typically generates an average of 48 contract positions per site. By working with California-based SolarCity, the company's focus on solar power has generated more than 3,000 contract construction jobs in California. In turn, SolarCity has hired 1,213 employees since announcing its first Walmart projects in September 2010. The San Mateo, Calif.-based company will install, manage, and maintain 70 of the 100 new solar power systems.

"At Walmart, we believe sustainability is about living better," said Kimberly Sentovich, Senior Vice President of the Pacific Division for Walmart. "By using one of California's greatest resources – sunshine – and employing renewable technology with our California-based partners, we will continue developing solutions that are both good for the environment and good for business."
The total combined solar efforts in California are expected to:
* Generate up to 70 million kilowatt hours of clean, renewable energy per year, which is the equivalent of powering more than 5,400 homes*;
* Avoid producing more than 21,700 metric tons of carbon dioxide emissions per year, which is the equivalent of taking approximately 4,100 cars off the road*; and
* Provide 10 to 30 percent of each facility's total electricity needs
"Walmart is showing other businesses that you can create jobs and reduce air pollution by using better energy," said SolarCity CEO Lyndon Rive. "In Walmart, other businesses seeking efficiency and smart energy policy have a strong example to follow."
There are now 100 Walmart stores and Sam's Clubs in California using traditional and thin film solar installations. After launching its solar pilot program in May 2007, Walmart strengthened its commitment to renewable energy in the state of California last year when it announced plans to expand its solar portfolio to more than 75 percent of its stores in California, approximately 130 stores, by the end of 2013. Since then the company has worked with local companies to install solar technology at stores from Chico to San Diego, including:
* 43 stores in the Los Angeles area
* 17 stores in the Bay Area
* 11 stores in San Diego
* 10 stores in Sacramento
* 6 stores in the Fresno area
* 3 stores in Chico-Redding
* 3 stores in Monterey-Salinas
* 3 stores in Palm Springs
* 2 stores in the Bakersfield area
* 2 stores in Santa Barbara
"Walmart does not just talk the talk, it walks the walk," said Mary D. Nichols, Chair of the California Air Resources Board. "Walmart's work to expand and accelerate its solar power initiative program here in California demonstrates its commitment to sustainability. Walmart has helped create local jobs, reduce costs for its own operations, and protect the environment. We encourage other businesses to follow Walmart's lead."
"Walmart has demonstrated a real commitment to solar energy systems here in San Diego and throughout California, and hopefully other companies will make the move to do the same on their rooftops," said Tony Young, San Diego City Council President. "This latest renewable energy effort is another step forward in San Diego's clean-energy mission and will help make our city a better, more sustainable place for current residents and our next generation."
"Walmart's solar power initiatives shows how companies can help bring cost-effective energy solutions to scale as part of 'business-as-usual,'" said Gwen Ruta, vice president of Environmental Defense Fund's Corporate Partnership Program. "This milestone for Walmart's efforts demonstrates the growing roles for renewables in America's energy future."
Learn more about Walmart's commitment to sustainability at The Green Room and follow us on Twitter (@WalmartGreen) to get updates about sustainability efforts and milestones. Additional information about our commitment to renewable energy is also available on our website.
About Walmart
Wal-Mart Stores, Inc. (NYSE: WMT) serves customers and members more than 200 million times per week at more than 10,300 retail units under 69 different banners in 27 countries. With fiscal year 2012 sales of approximately $444 billion, Walmart employs more than 2 million associates worldwide. Walmart continues to be a leader in sustainability, corporate philanthropy and employment opportunity. Additional information about Walmart can be found by visiting http://walmartstores.com, and on Facebook at http://facebook.com/walmart and on Twitter at http://twitter.com/walmart. Online merchandise sales are available at http://www.walmart.com and http://www.samsclub.com.
Featured Product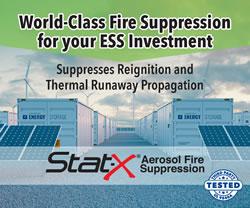 Stat-X® condensed aerosol fire suppression is a solution for energy storage systems (ESS) and battery energy storage systems (BESS) applications. Our Stat-X condensed aerosol fire extinguishing product was tested for efficacy in suppressing li-ion battery fires. It was found that the product successfully extinguished single and double cell battery fires. This testing was conducted in parallel with a large battery fire testing program on behalf of a large energy storage company.