Installing educational kiosks with solar installations at 30 Arizona schools
PHOENIX – As part of the APS Solar for Schools Program, students at more than 30 K-12 Arizona schools will come back from summer break to find their classrooms powered by solar energy. In addition – and perhaps more importantly – the students will have the opportunity to learn about solar power thanks to educational kiosk displays provided by APS and project partner AlsoEnergy.

Through the Solar for Schools Program, APS designs, builds, owns, and maintains a photovoltaic solar system on a K-12 school at no upfront cost to the district. APS recently contracted with AlsoEnergy to provide energy performance and production monitoring data and education kiosks on the schools.
"The APS owned portion of the Solar for Schools Program provides an uncanny opportunity for K-12 schools – located primarily in rural areas of the state – to take advantage of the power of the sun without dipping into their school budget," said Tony Tewelis, APS Director of Technology Solutions. "Adding the educational kiosks has taken this program to another level. The students will learn what solar panels can produce at different times of the day and see how much electricity their school is consuming. We're helping to power classrooms for the future leaders of our communities."
The educational kiosks that APS has selected are AlsoEnergy's PowerLobby displays, customizable kiosks that will be placed inside each building to show data such as sun tracking, number of kilowatt-hours saved and information about how much money the school is saving on its electric bill. Teachers will have access to the data and the ability to create science lessons about how energy is produced and used.
"APS will not only produce clean energy for the state through this program, they will provide cutting-edge solar education to students from ages five to 18," said Robert Schaefer, CEO of AlsoEnergy. "The utility will also receive information through our energy management services that can compare operation between sites and detect underperforming components, providing real-time information to help them better serve their customers."
The schools participating in the program have contracted with APS to secure a fixed utility rate for 20 years. For more information about the APS Solar for Schools Program, visit aps.com/solar.
APS, Arizona's largest and longest-serving electricity utility, serves more than 1.1 million customers in 11 of the state's 15 counties. With headquarters in Phoenix, APS is the principal subsidiary of Pinnacle West Capital Corp. (NYSE: PNW).
About AlsoEnergy
Based in Boulder, AlsoEnergy provides the most comprehensive energy monitoring and financial management software solutions for renewable energy developers, manufacturers and investors who are establishing today's clean-tech industry standards and best practices. From residential and government to commercial and utility grade applications, AlsoEnergy's technology platform increases business results with online access to critical cost and production data. With the industry's only complete client-customized web application, AlsoEnergy's unique architecture and price point reduce risk, improve energy supply chain transparency and bring strategic vision to energy portfolio administration and the global clean-tech marketplace. For information, visit www.AlsoEnergy.com.
Featured Product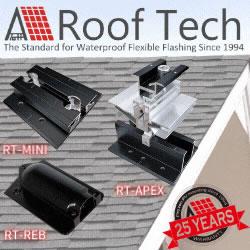 Now Roof Tech brings you the most innovative, watertight mounting systems ever developed for solar photovoltaic systems. Designed and manufactured exclusively for us by Japan's longtime leader in roofing technologies, Roof Tech products are 100% code-compliant and offer fast, simple installation and huge savings on shipping costs due to their compact, rail-less design. Learn more about our full line of versatile PV mounting solutions now available for residential installations. The next generation in rooftop solar mounting solutions."