Munich. Monier PV Tile is the first product to receive the "Building Integrated Photovoltaics" (BIPV) certificate by TÜV SÜD. The PV in-roof solution by Monier is a premium quality roof-integrated solar PV tile system. TÜV SÜD's certificate confirms that the system fulfils a comprehensive list of rigorous criteria.
Building integrated photovoltaics (BIPV) is a term describing multifunctional building components that generate power while replacing conventional building materials. Given the multi-functional characteristics of these components and systems, no specific BIPV standard, covering all applicable requirements related to electrical and building safety has been available to date.

To close this gap and enable manufacturers to provide robust evidence of the safety and quality of their products, TÜV SÜD developed a BIPV certificate which covers all applicable legal requirements of the European Union. "Our certificate provides reliable and informative guidance through a relatively new market segment, offering all stakeholders – manufacturers, retailers, installation companies and investors – enhanced certainty for their decision-making processes", says Andreas Faißt, photovoltaics expert at TÜV SÜD Product Service GmbH. The certificate also provides home-owners with a valuable decision-making aid. The certificate for Monier's in-roof solution, for example, assures home owners that the BIPV product fulfils the roof's functions regarding mechanical stability and fire safety. TÜV SÜD's experts based their comprehensive list of criteria for BIPV products on the requirements defined in EU Regulation 305/2001, which will replace the European Construction Products Directive 89/106/EEC in July 2013.
As a global supplier of building materials for pitched roofs offering a comprehensive range of roof, chimney, ventilation and energy systems for residential buildings, the Monier Group makes impartial, third-party confirmation of their products' quality and function a high priority. "This confirmation is particularly attractive for innovative technological solutions as it boosts the confidence of roofers, installation companies and, of course, also consumers in the products", says Jens Milnikel, head of global solar activities at Monier Group. "We are delighted that by issuing the certificate, TÜV SÜD has confirmed the multiple functions and safety of our Monier PV Tile system as well as the high quality standards of our company." Monier Group markets the PV Tile system under their local brands and trade names: 'Braas Photovoltaik Indach Premium' in Germany and 'Redland Solar PV Tile' in the UK.
To read more about the BIPV certificate and TÜV SÜD 's photovoltaic services, go to www.tuev-sued.de/photovoltaik; further information about the products offered by Monier Group is available at www.monier.com and www.Braas.de.
TÜV SÜD is an international leading technical service organization catering to the segments INDUSTRY, MOBILITY and CERTIFICATION. The experts and technology consultants are dedicated partners in their clients' processes, offering comprehensive industry expertise throughout the entire value chain. They focus their services on their core competencies of consulting, testing, certification and training. Over 17,000 employees are committed to optimizing technology, systems and know-how at over 600 locations in Europe, the Americas, Asia Pacific and Africa. Further information is available at www.tuev-sued.de.
Featured Product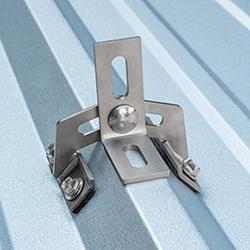 They have been changing the game for 10 years with their original Top Mount line for Asphalt Shingle roofs, and by now supplying one of the widest ranges of solar mounts in North America. From their patented products, to the custom production services they offer, QuickBOLT has been working with solar installers for nearly a decade to make solar installations easier than ever before.