The projects are located on the island of Oahu and are primarily ground mount solar systems.
HENDERSON, Nev., Aug. 3, 2012 -- Blue Earth, Inc.

(OTCBB:BBLU) a renewable energy and energy efficiency services company
announced today that it acquired the exclusive rights to construct seven
different solar PV projects totaling approximately 3.5 megawatts DC in
Hawaii. The projects are valued at approximately $15 million.
The projects are located on the island of Oahu and are primarily ground
mount solar systems. Six projects acquired by BBLU meet the requirements of
the Renewable Energy Tier 2 Feed-in Tariff ("FIT") offered by Hawaiian
Electric Company ("HECO"). The planned projects will employ local trade
people during their construction.
The Company's wholly owned subsidiary Xnergy, Inc. will provide the
engineering, procurement and construction ("EPC") for the respective
projects. Two projects are expected to begin in the third quarter of
2012 and are expected to be completed no later than the fourth quarter of
2012. Five projects are expected to begin in the fourth quarter of
2012 and are expected to be completed in the first quarter of 2013.
Hawaii has the largest Renewable Portfolio Standard in the US, requiring 40%
of the state's energy be supplied by renewable energy by 2030. HECO's
Feed-In-Tariff ("FIT") program is designed to encourage the addition of more
renewable energy projects in Hawaii.
Pre-established FIT rates and standardized FIT contract terms facilitate the
process of selling renewable energy to HECO.
"These projects highlight Blue Earth's commitment to advance our presence in
Hawaii and become a leader in the development of solar PV systems that help
protect the local environment from harmful emissions," stated D. Jason
Davis, CEO of Xnergy, Inc.
Xnergy is a full-service EPC (Engineering, Procurement, Construction) firm,
which has engineered, installed, and/or commissioned nearly 100 MW of
traditional and alternative energy systems. Xnergy provides a broad range of
comprehensive energy solutions, including the design and implementation of
energy savings projects, energy conservation, energy infrastructure
outsourcing, power generation and energy supply and risk management. Xnergy
serves private and public clients from all industries throughout California
and helps them minimize their energy consumption and reduce their carbon
footprint. For further information see www.xnergy.com
About BBLU
BBLU is engaged in the clean technology industry with a primary focus on the
energy efficiency and renewable energy sectors. We strive to participate in
the global movement for a sustainable planet by offering products and
services that will optimize energy use, reduce harmful environmental
emissions and substantially reduce energy costs to our customers. For more
information about Blue Earth, Inc., please visit www.blueearthinc.com.
Featured Product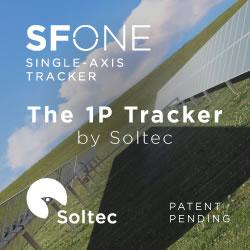 Soltec manufactures and supplies solar trackers designed and proven for extreme climate conditions, which is an ideal solution for any region's environment. Soltec's trackers are self-powered, requiring no additional PV module or grid-powered connection. Bifacial modules collect energy on both the front and rear sides, capturing reflected irradiance from the ground surface under and around the tracker and from other modules. Depending on site conditions, bifacial yield-gain can reach +30 percent.